5/15/11- Kim & Sharon's blog

We left Nuka Hiva and moved the boat 30 miles to Hakahetau Bay on the island of Ua Pou (pronounced "Wapoo"). Some books claim that Ua Pou has the most dramatic geological features in the world. Giant spires and towers rise over 4,000 feet from the ocean.

Sailing by the Ua Pou airport was a highlight of the passage. Curtis, a former Delta pilot, noticed that the landing strip was on a steep incline. This allows a landing plane to slow down quicker since you are going up a big hill as soon as you touch down. When taking off, there would be a big down hill run to launch you over the ocean. Curtis noted that there would be no way to abort a landing at this airport due to the surrounding terrain. Safer to come here by boat.

The anchorage was beautiful, bug free, cool and most important - flat as a pancake. The full moon came out simultaneously with the sunset. The moon was so bright it almost looked like day time. We had a relaxing dinner in the cockpit, retired early and planned for an early start for our 3-4 night passage. On the "Road" again! You can read about the next leg of our adventure by clicking on the new Tuamatus link on the left.

s/v Georgia J
Currently anchored at 09 21.389 S, 140 06.362 W in Hakahetau Bay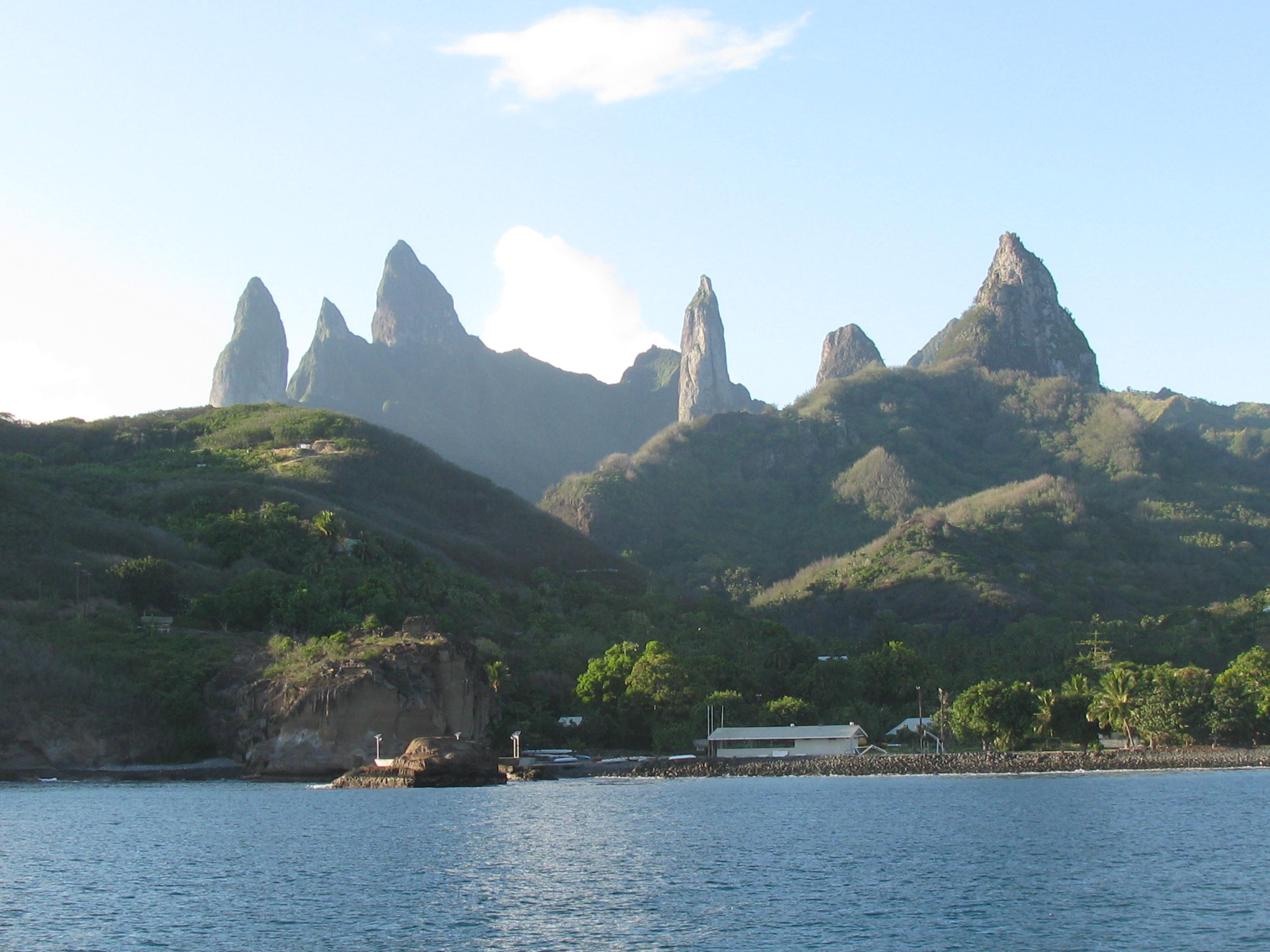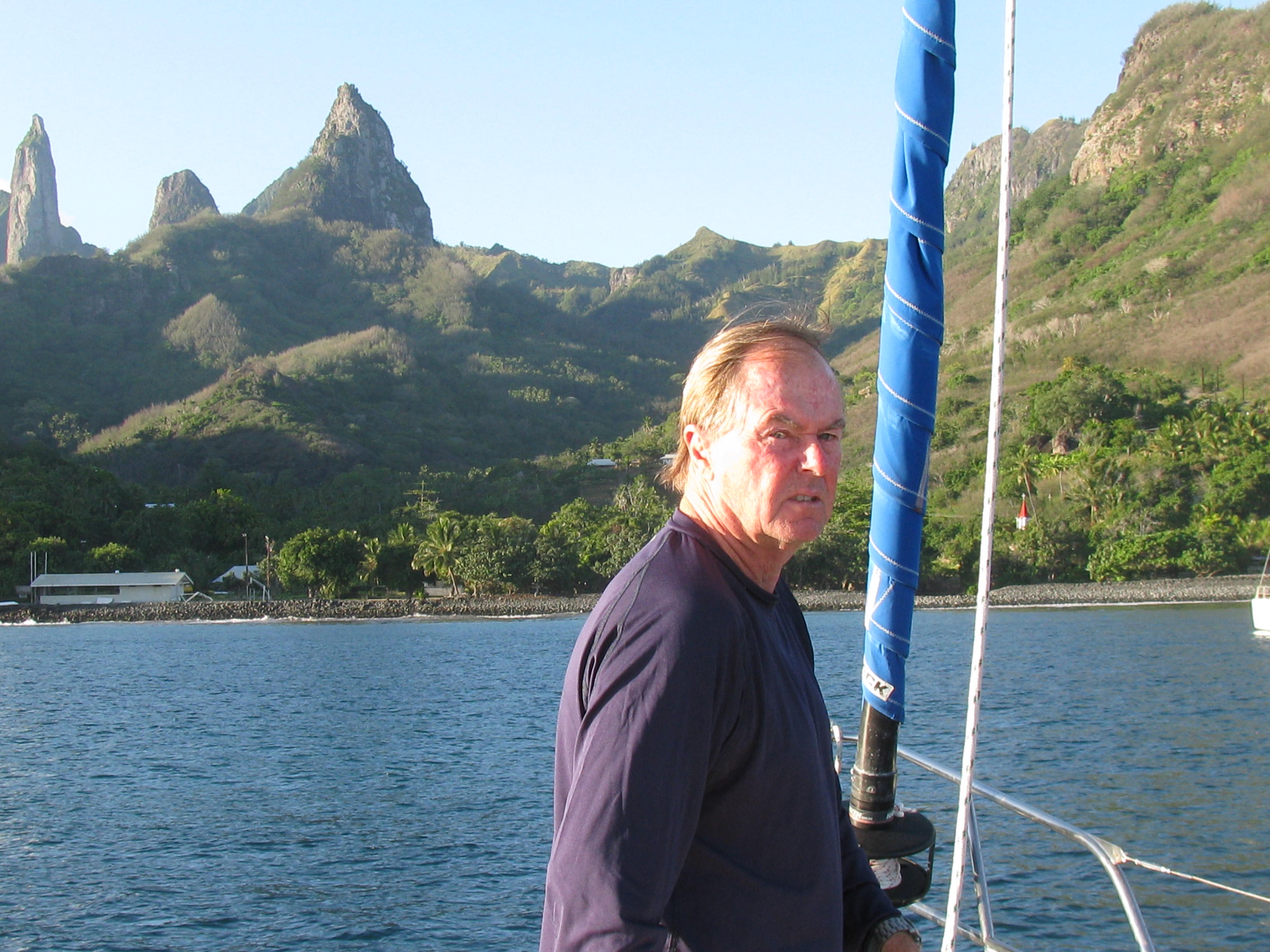 5/14/11- Kim's blog

Our friend and new crew member, Curtis, arrived for the trip to the Tuamotus. We had a great dinner at the Pearl Lodge, the only fancy resort on the island. The French chef even drove us back to the dingy dock after dinner. This was the best restaurant meal we have had since leaving San Diego. We told Curtis not to expect this every time. More often than not, the restaurants are more like "Snack Make Make". We are packing up and lashing down everything loose to prepare for the next leg.

5/13/11- Kim & Sharon's blog:

The last few days have been good. We rented a four wheel drive pick up truck and drove to the other side of the island. The road changed from paved mountainous switch backs with amazing views to dirt, then rock and gullies. It was undoubtedly the roughest road I have ever driven. At the end, we found an amazing French restaurant on a beautiful beach for an impressive and expensive lunch. Although we only traveled 8.5 miles as a crow flies, the drive took 2 hours each way.

We have been restocking food since there are few provisions in the Tuamotus. We loaded up the truck with groceries and headed for the dingy dock. The fisherman were cleaning tuna about 10 feet from where we climbed down to our dingy. Every time a tuna scrape hit the water, the water boiled with sharks. Sharon refused to buy fresh tuna so close to the sharks.

The local mechanic has finally got our diesel generator running. He removed the defective solenoid which moves the throttle, cleaned the injector, and bypassed the secondary fuel filter which seems to be sucking air. [Note to Kenny T.: There is a market here for a diesel guy with his own set of wrenches.]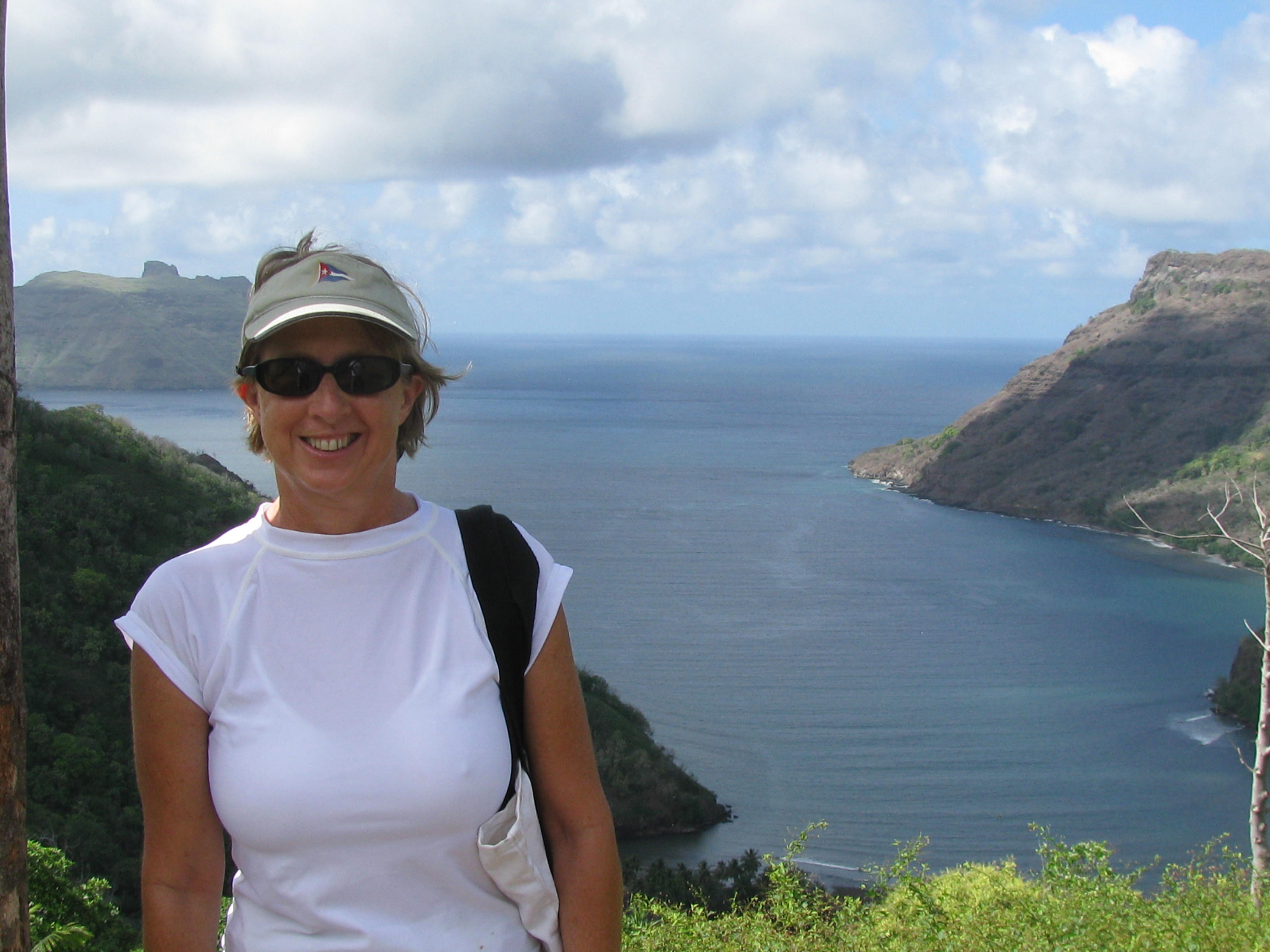 Drive around Nuka Hiva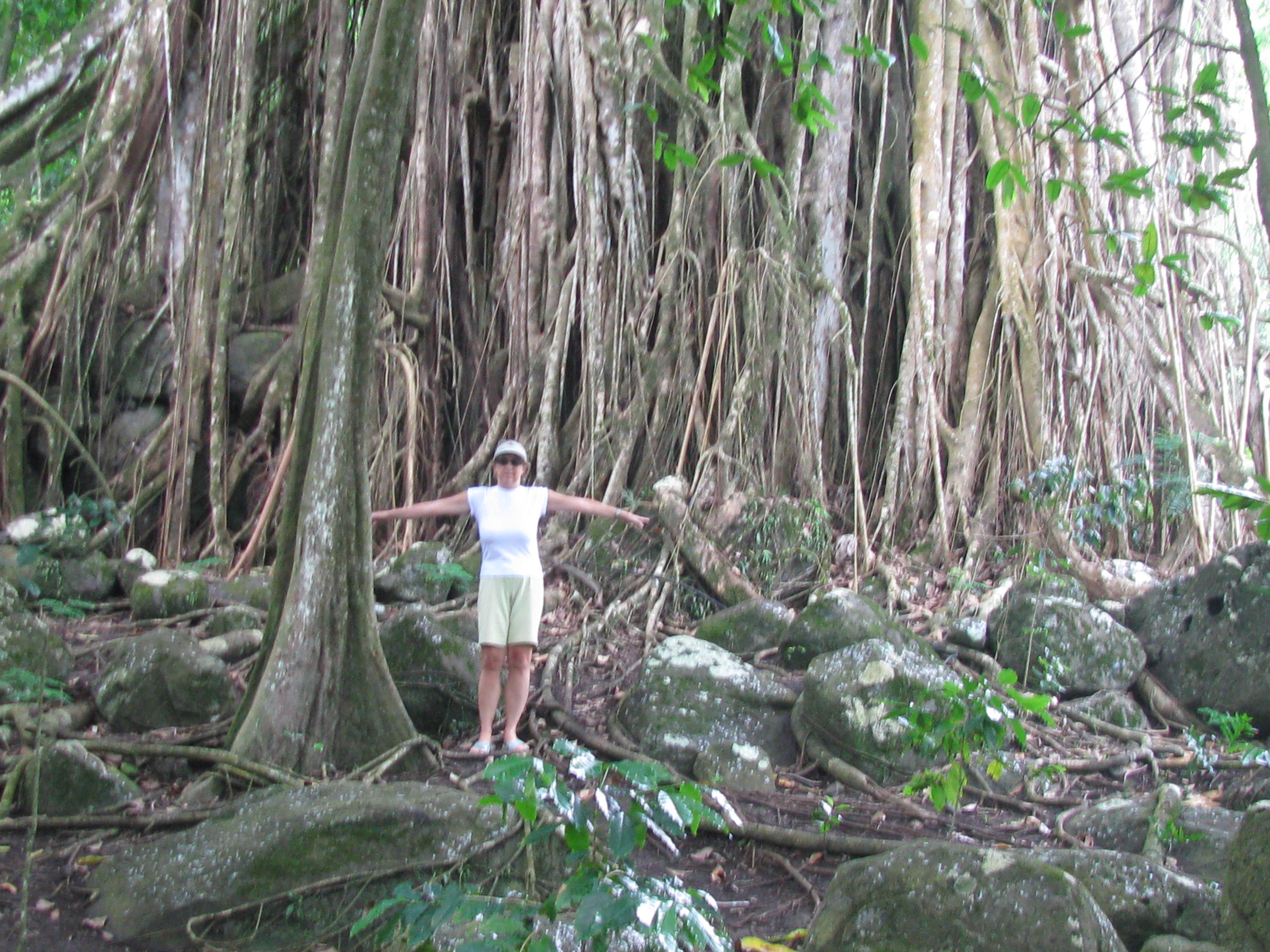 A really big tree at an ancient archeological site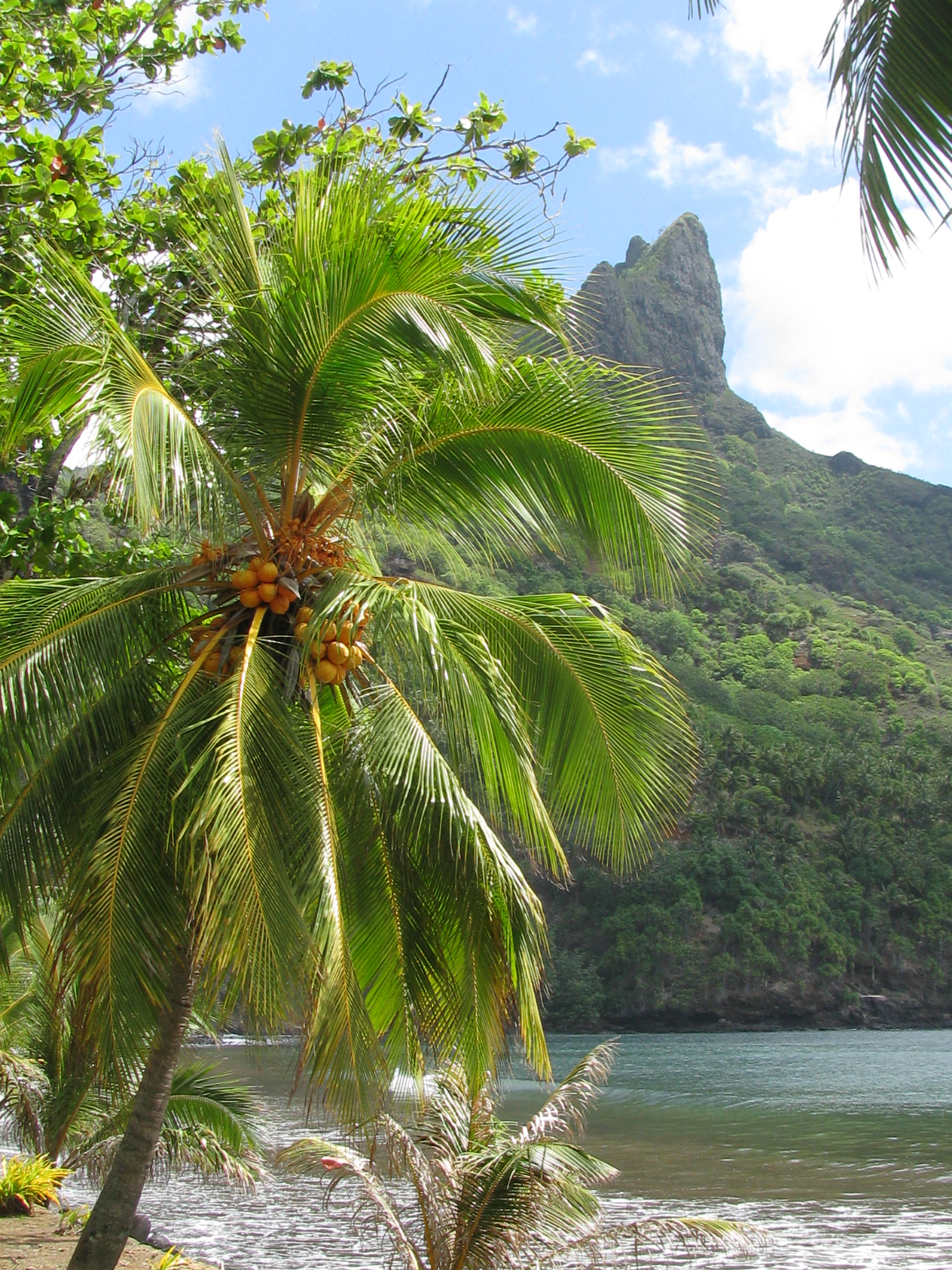 Lunch at Chez Yvonne's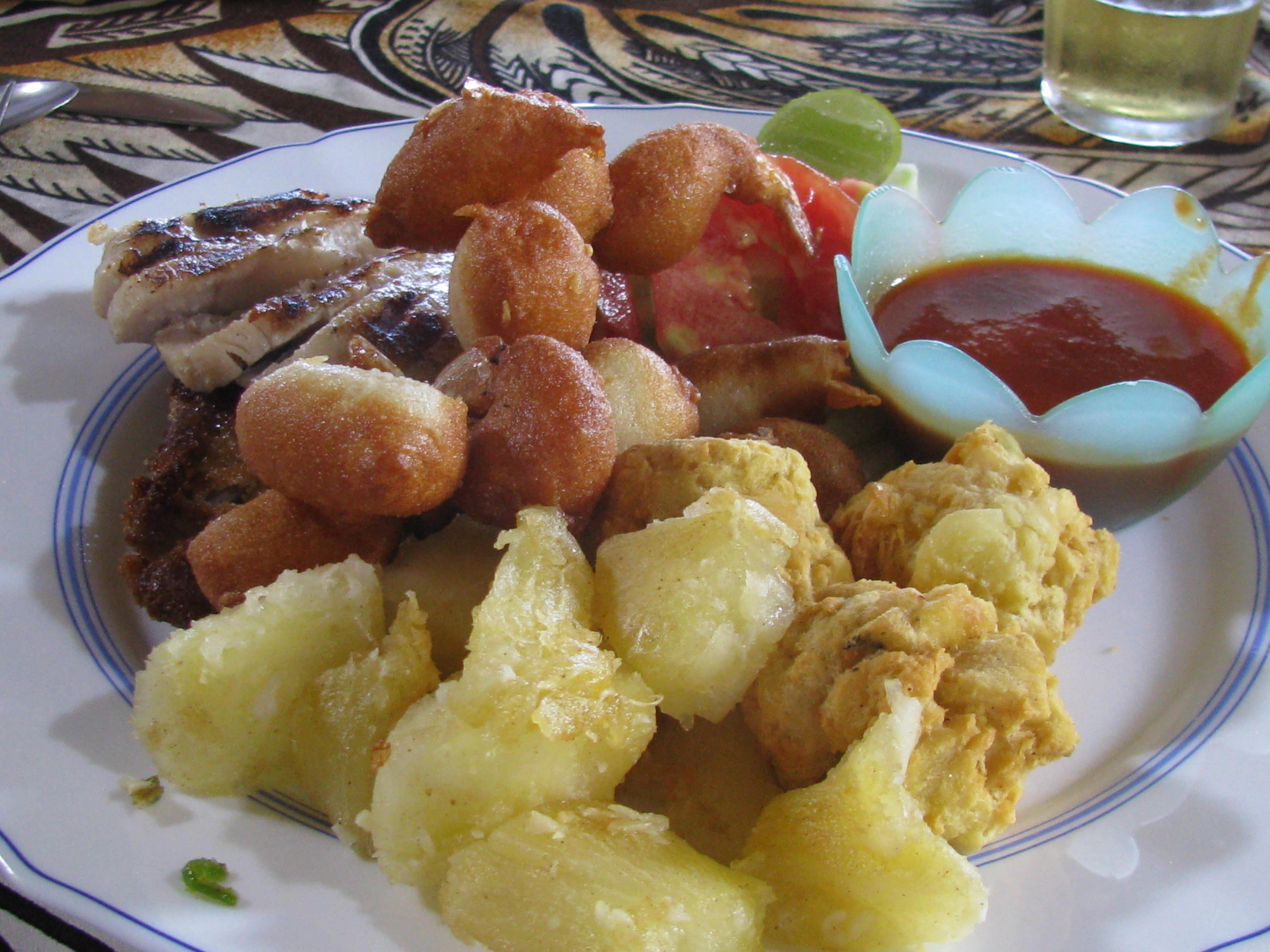 5/12/11

Kim & Sharon's blog

We are still in Nuka Hiva preparing for the 3-4 day passage to the Tuamotus. Our friend Curtis arrives Friday to join us for the trip. We have been relaxing a bit more adopting the local custom of afternoon siesta. Last night we enjoyed dinner with our friends from Calou. We are amazed that there are two former Corinthian Yacht Club commodores (Bruce and Sharon) here in Nuka Hiva.

Yesterday we refueled the boat. Kim went by jeep to the service station and filled 15 jerry cans with 400 liters of diesel fuel. These were transferred by dingy to the boat and then siphoned into the tanks. Amazingly, the operation went pretty smoothly.

The fuel guys wanted to barter for .22 caliber bullets. The mountains of this island are extremely rugged. They hunt goat, wild pig, and wild cattle. The cow hunting does not seem very sporting. Sadly, I had no .22 bullets to trade.

We had two culinary firsts today. We had French crepes from the back of a Volkswagen bus and Sharon is preparing breadfruit for dinner. The crepes were excellent. The verdict is still out for the breadfruit.

To honor a long nautical tradition for crossing the equator, Sharon was tattooed on her ankle today. We went to a local tattoo artist's home where we chose a tasteful design and swatted mosquitoes while the artist did his work. The fuel delivery man told us that once you have a Marquesan tattoo, you are forever connected to the islands.

s/v Georgia J
at anchor at
08 54.999 S
140 05.897 W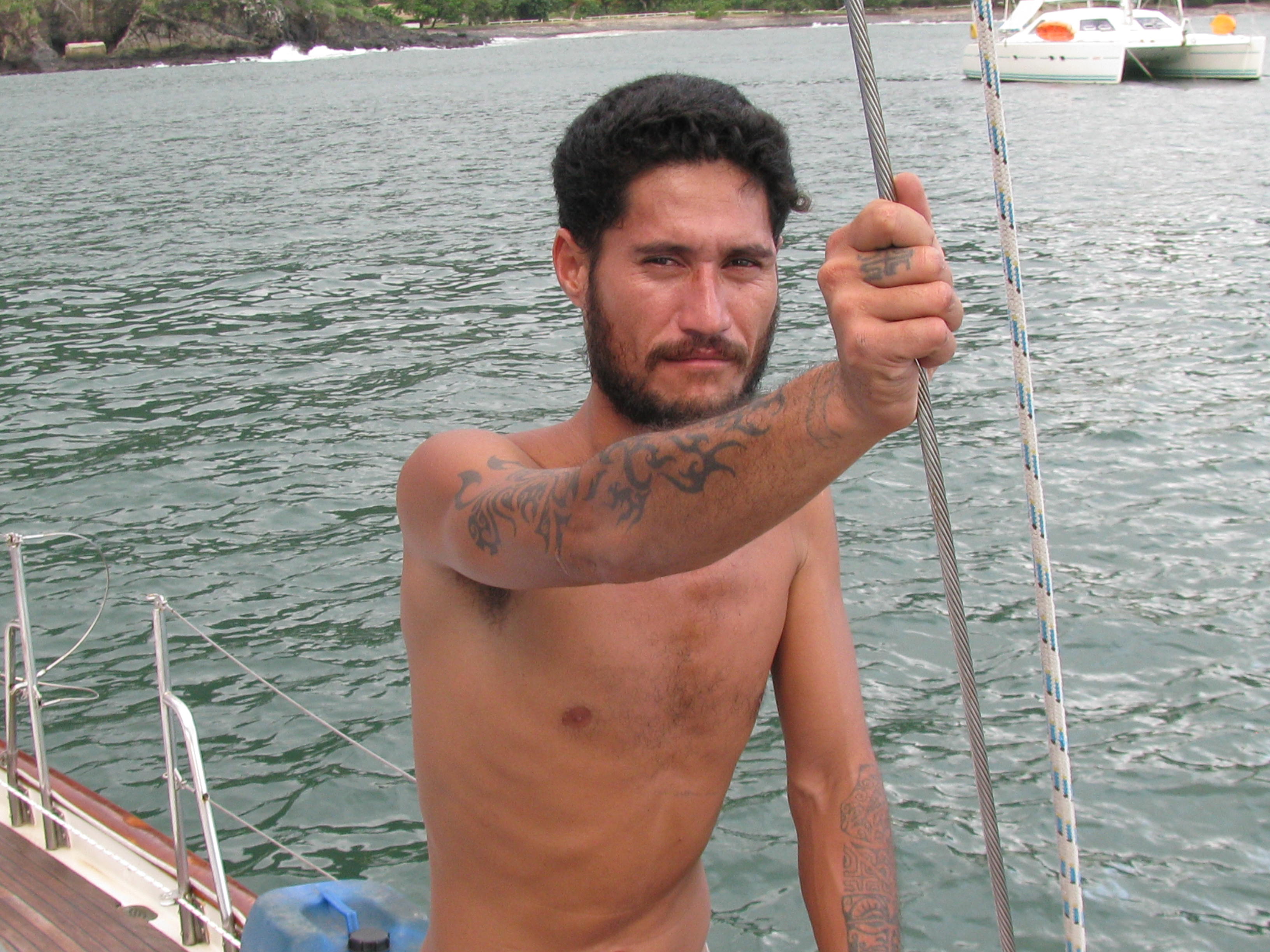 Refueling in the Marquesas
Refueling in the Marquesas
Sharon's new tattoo
5/4/11- Kim's Blog:

We moved the boat to the island of Nuka Hiva yesterday. The trip took 12 hours. Oddly, there were no trade winds and we motored most all of the way. The highlight was visit by a group of dolphins just before we made landfall. We saw our first baby dolpin (about 15") who had no problem keeping up with the boat.

The entrance to the bay was amazingly dramatic. Two giant sentinel rocks guarded the entrance and the large bay is surronded by rugged green mountains.

Craig left for home today and we already miss his singing. We explored Taiohae (the town) today and found our new Aussie friends from Cat Wagon, who we last saw in a store in San Diego. Taiohae is wonderful. We have internet, restaurants, fresh produce, and a hardware store. We even stopped by the public health service to be vaccinated for Elephantitis. The vaccine was free and they did not even ask our names.

We expect to be here about two weeks getting the boat back into shape for the passage to the Tuamotus.
5/1/11

Kim's blog:

The last couple of days have been great! We are anchored at a beautiful bay on Tahuata island, about 10 miles from Hiva Oa. We had a couple of days of snorkeling, deserted white sand beaches and a flat, gorgeous anchorage. Craig snorkeled much farther from the boat and encountered two large black tip sharks. They circled as he made an olympic swim back to the boat. He is a little extra sensitive since he was bitten by a shark a few years ago.

Even Plato is happier. He spent the day wandering the deck and eating like a wolf. He made one mistake when he jumped to the foredeck failing to realize that there was an open hatch. He went right through the hatch, fell seven feet and landed on all fours. Shaken, but not hurt, he went to bed.

Glenn Hansen, our rigger and new friend, heroically flew here from San Francisco to fix our shrouds and make sure there was no other damage. He has worked hard and has been a great addition to the crew. Can you imagine any repair person making a 2000 mile warranty trip? For the best rigger in the bay area contact Glenn at hansenrig@sbcglobal.net.

We do have some lingering mechanical problems. Our new Garmin system is on the blink, so we have no depth finder or wind indicator. Fortunately, we have back up GPS info with Nobeltec.

We plan to head to Nuka Hiva in the next couple of days.

Position 09 54.431 S 139 06.252 W
At anchor, Tahuata Island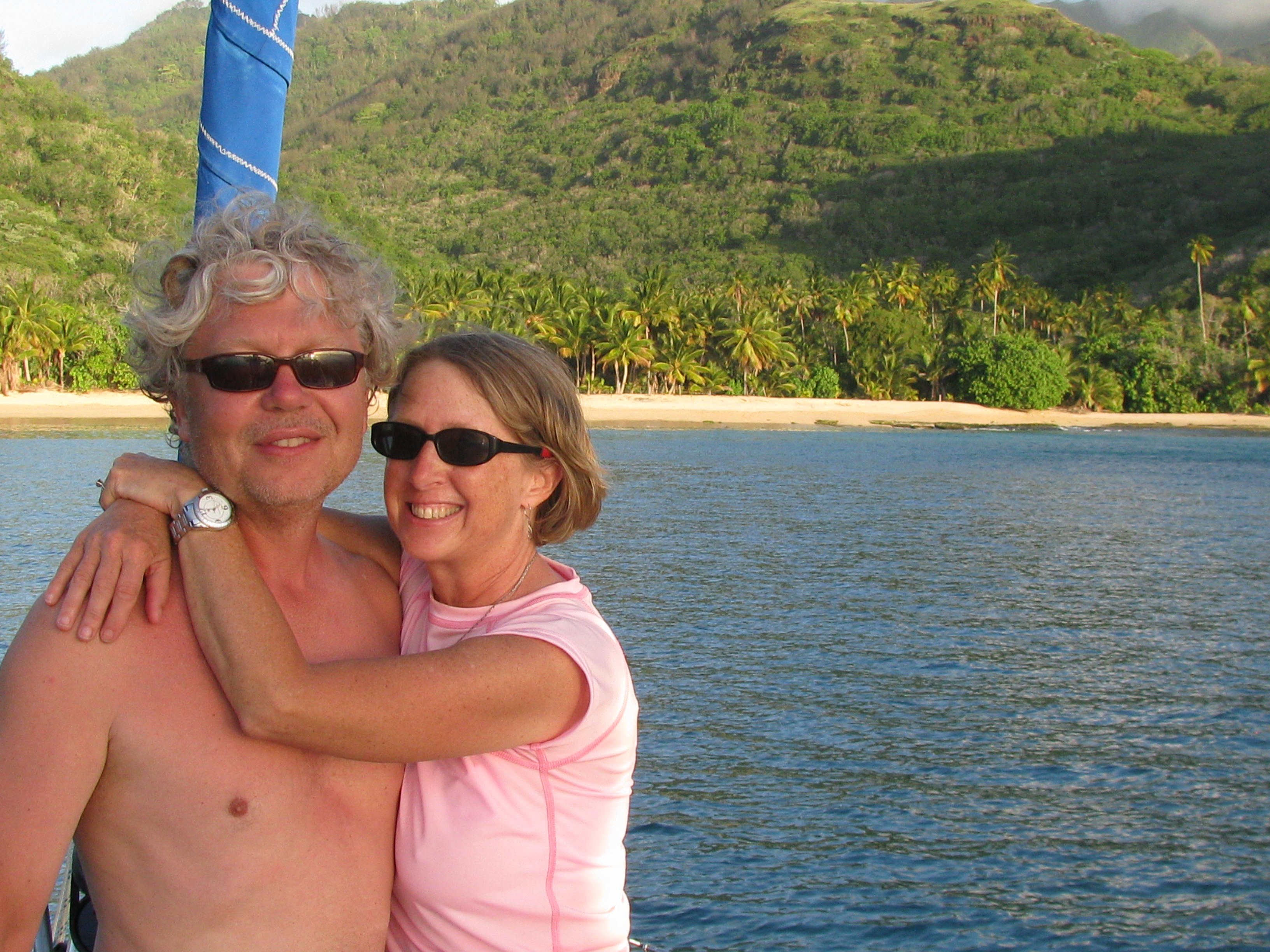 Customs Police board Georgia J- They were nice
Our private beach and aquarium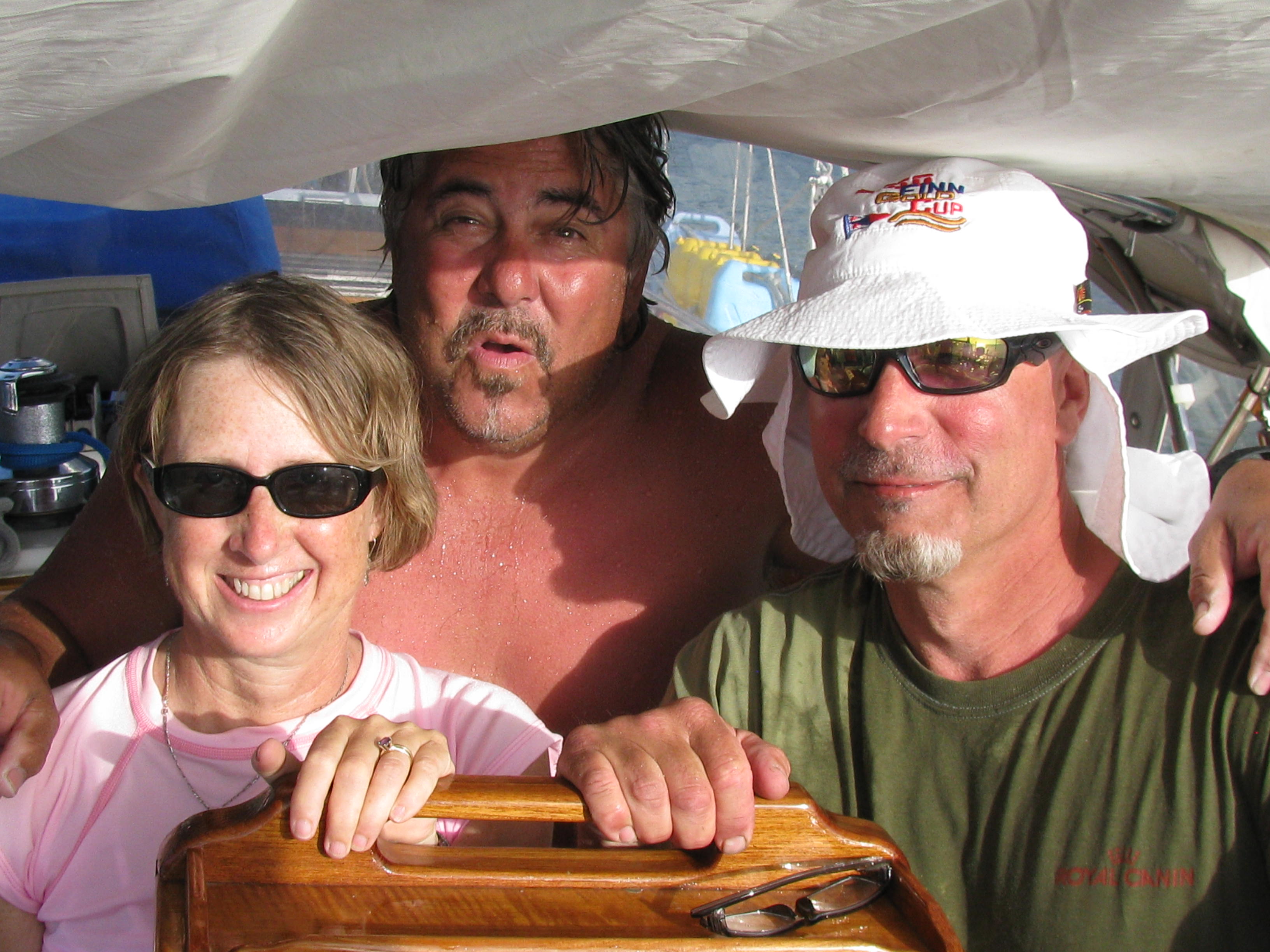 Kim's log 4/28/11:

I added pictures to the blog below. It is really slow to do this from Hiva Oa.

The highlight of Hiva Oa has been the dinner we had a couple's house who operate a local pension/B&B. He was a ex French foreign legion sniper who married a Marquesan girl and decided to stay here. We enjoyed the excellent dinner, wine, and conversation in their home. Surprisingly, Craig was invited back the next day to watch soccer with their friends.

Our friends Bruce and Pascal on Calou showed up in the harbor today. Hiva Oa now has two Corinthian Yacht Club staff commodores anchored here.

The rigger comes today from San Francisco to fix the shrouds. Most of the other repairs, cleaning and laundry are almost done. We hope to leave for beautiful Tahuata, a neighboring island today or tomorrow. We are confident we can handle the two hour trip.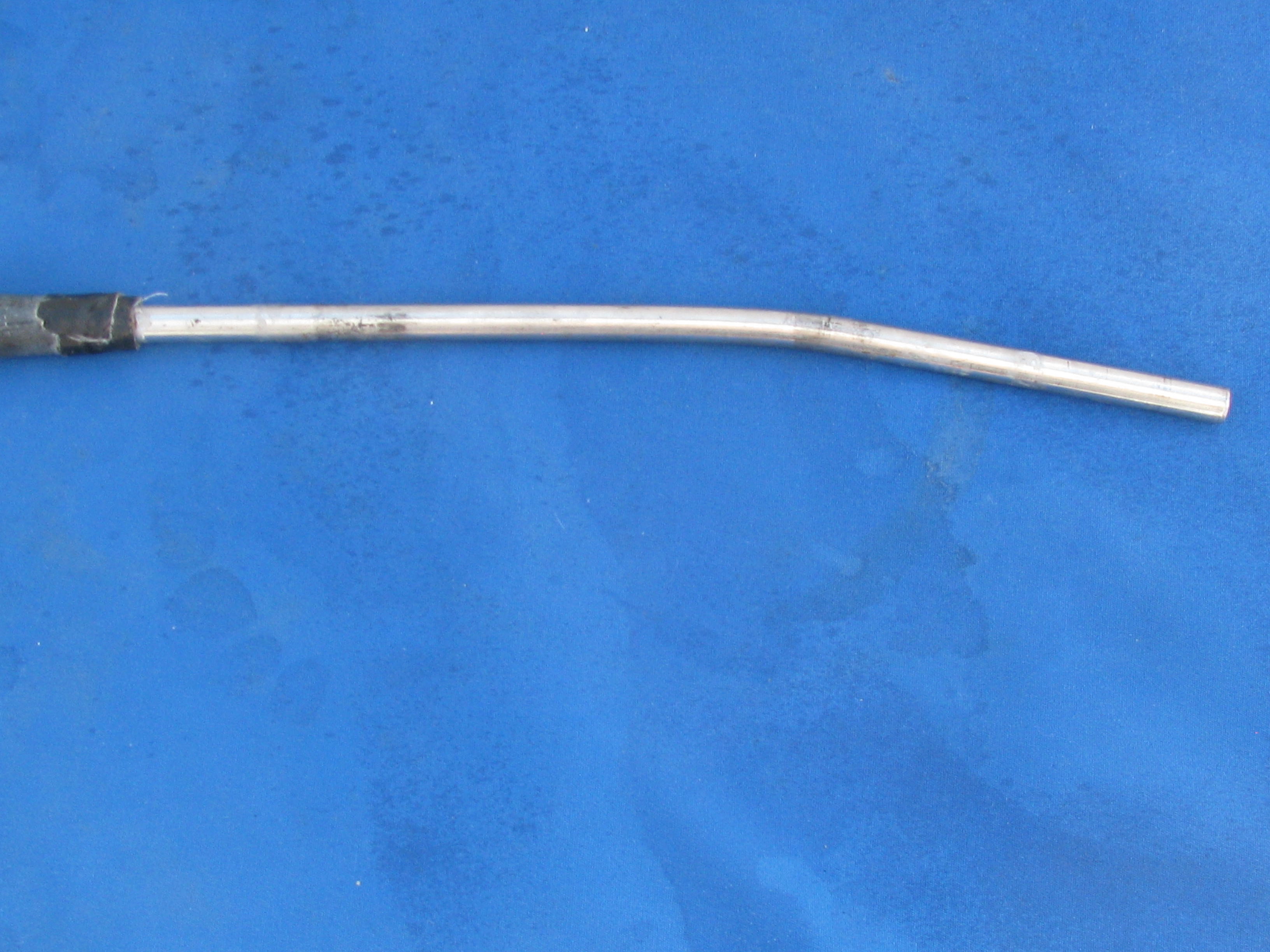 Solid Stainless rod which helped hold up the mast- notice how it bent
4/26/11- Sharon's Blog

First, Happy Birthday, Erie! It is hard to believe that our little girl has grown into such a lovely, successful, young woman with a beautiful home and family of her own. We could not be more proud of you.

Well, we have the first dissension among our crew. Captain Craig is all ready to sign up and do it again. Captain Kim is saying no way. I am right in the middle. Hard as hell? Absolutely. Worth it? Well, I don't know yet. I do know that I am thrilled to be here on Georgia J.

Yesterday was a great example of what a special crew we have. No one had a burning need to immediately get off the boat or away from each other. After a bottle of champagne and one too many Bloody Marys, we slept until late afternoon. We had a lovely candlelight dinner in the cockpit, with soft music, stars and this amazing ambiance of this quiet anchorage. Now, that is what I had in mind.

Our land adventure begins today. We go in search of check in, LAUNDRY, French bread, cheese and wine. What more could anyone need?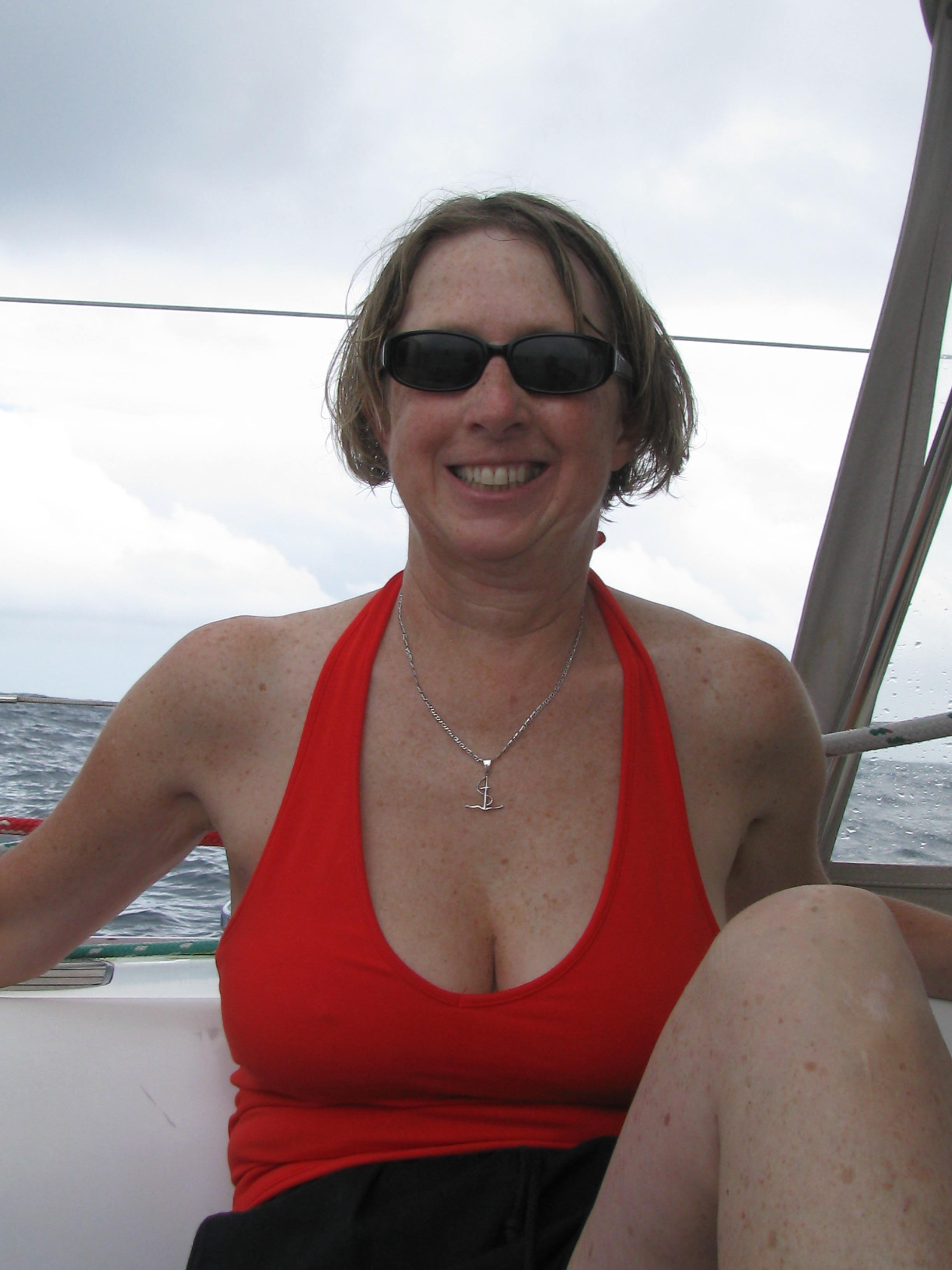 4/26/11

Craig's Log

Its all forgotten: the breaks, the spills, the failures, being thrown around, knocked around and spun around. No climbers enjoy the hardships of Everest, but standing on the summit is why they do it. This morning as the sun turned the shades of grey into color, Hiva Oa, lusciously green, with its spires and ridges and cliffs of lava came into focus... and life was good again. We were on the summit. It was 100% worth it and I would do it again with the same boat and the same crew. We are now nestled in a small anchorage with 19 other boats of all shapes and sizes and flags. Each boat having their own story, there own struggles, dancing in this tiny bay on this tiny island in this massive ocean. Yes, Life is definitely good.

Kim's log

Had I known the trip would be this hard, I would never have done it. However, the broken standing rigging, contaminated fuel and water, and relentless pounding for days on end were not anticipated. I also did not anticipate the quality of our crew. After 33 years together, I knew Sharon would first fuss, then face any adversity. However, I did not expect that our only arguments would be over her insistence to cook hot meals on a rolling stove which posed a serious danger of severe burns.

I also knew that Craig had the necessary technical skill to do the passage. However, I did not know he would become our cheerleader and motivator. When I crawled in the lazerette at midnight concerned that a new noise was the propeller shaft coming loose, Craig told me to go back to bed. When I was was up the mast having the breath knocked out of me, Craig was yelling, "hold on buddy, you can do it." When I found a quarter inch gap in the floor panel indicating that the boat was coming apart 2000 miles offshore, Craig told me to be positive, I simply had a larger boat. He was sure we could fix any problem as they arose, we just needed another "Mexican gasket." I learned to be creative as we faced new challenges.

The final surprise was adding new crew member after we were underway. Erica became our lifeline allowing us to receive messages from friends, tracking our position and even researching the equator crossing ceremony. Since she was a wee bit negative about her parents running away from home, her help was greatly appreciated.

As a final joke from Neptune, the 3/4" missing nut which almost brought down our mast and was desperately needed for the repair somehow washed up in the cockpit with two dead fish on the the final day of the voyage.

s/v Georgia J
At anchor in Hiva Oa, Marquesas
09 38.221 S 139 01.824 W

4/25/11

Georgia J and her crew have made it safe and sound! They are currently anchored at Hiva Oa and very happy to be there. More to follow soon.

P.S.- The Winlink position dots are not correct. They did not start heading north towards Hawaii but have in fact reached their intended destination. Kim hopes to fix them soon.
4/24/11

Position as of 1445 PST today is S 8 35.4
W 138 24.7

71.8 miles from land Ho!

Craig's Log
Its probably my kharmic influence that has caused these conditions. I certainly cant believe that it could be Kim and Sharons. We made the decision to slow down to avoid an arrival in the middle of the night. Well, at the moment, we have half the jib out are close reaching in 12+ seas, 25kt winds and are pounding along at 7 kts. This is suppose to be the "Milk Run" so far it has been the "Rock Gut, Home Stilled Whiskey" run. On a happy note, only 78 miles to go and at mile 79, I certainly wont be sippin' milk.

ps: Erica, its not nice to laugh at a grown man getting pee'd on!

Sharon's Blog: Happy Easter, Everyone. This is one Easter that Kim and I will not forget. I managed to cook a full breakfast despite the conditions.. Craig and Kim asked me what I wanted to eat for our first meal on shore. I couldn't care less, as long as i don't have to cook it or chase it across the counter. My Mom asked me today if we were having fun. I really wanted to say yes, but just couldn't quite say that. However, I do believe that we are just getting to the fun part. We have, however, made the best of it, and all of us have stayed amazingly positive.

Regardless of your personal beliefs, it is impossible to deny the incredible beauty of the ocean, the sky, an immense rainbow and the stars (that's it, that's all we've seen). We are grateful for our safe passage thus far and this amazing opportunity we have. Now bring on the fun!

PS: We love getting your guest book comments. Thank you for sharing this with us.

4/23/11

Georgia J's Position as of 1500 PST on 4/23

Craig's Log
It was a rough night. The swell was hitting us from two directions. I dreamt that I was off road on a really rough hill, going over ruts and rocks in a slow moving truck. The first thing Kim said to me this morning is that he felt he was four wheeling down a rough road all night. Go figure. Weird- Time to spend some time apart.

As of this moment, let me check...200 miles to Hiva Oa! We are ready in so many ways to drop the hook. Bernard Metissie (sp?) in the first race solo/non-stop around the world was in the lead in the homestretch back to England, back to glory and $$$, after nearly a year at sea, he inexplicably changed course and decided to go around the world again- leaving the fame and fortune behind.
Sharon Kim and I took a vote- no plans on doubling back here. We are gladly taking the infamous and illfortune happily.

A quick note on Plato who seems as if he as been in Pluto this entire trip. I was trying to play with him in the cockpit yesterday while K & S were below. He was very cutely nuzzling his mug under my arm. I thought he was playing-- apparently he was preparing his spot, he pee'd all over me and the cockpit cushions. He then sat down and tilted his head sideways wondering why I was doing such a funny dance.

Sharon and Kim will be back on the blog manana.

4/22/11

Position 03 55.1 S, 136 52.6 W. Heading 205T, speed 5.1 knots

Kim's Blog:

Yesterday's big event came flying. While cleaning up the galley, I noticed two eyes behind the bread basket. During the night a 6" flying fish had apparently flew over the boat, down a 12" over head hatch and crash landed on the new Corian counter top. Although the fish was stiff, Plato dug his teeth into the head when Craig offered a bite.

This morning has been very squally. We just passed through a big one where the true wind peaked at 48 knots. Even with the main down and jib reefed, we all watched the mast bend and crossed our fingers that the jerry rig would hold. Only 368 miles to go.

Craig's Log

Last night and this morning were wild. The strength and the frequencies of the Squalls increased. Not much we could do other than head off, reduce and prey that the rigging gods were happy.

Georgia J is ship shape but man do we need a deep cleaning. Everything from doggy do do to a entire quart of salza has hit, slid and shattered on the floor- not to mention sheets, towels cushions and pillows that are constantly damp from many wet miles. I know its driving Sharon crazy but all we can do is wait to get to a laundry facility and spend the day. The problem is Hiva OA, out first stop, only has one facility--and that is one concrete sink in the middle of town! When asked about provisioning, I always say one bottle a wine and one roll of paper towels per person, per day. Current inventory: We still have plenty of wine but are down to our last roll.


4/21/11

Georgia J position as of 1200 PST: S 01 52.2
W 136 07.2

Sharon's Blog

We were sorry so many of you missed the party, but we hope you had a glass or two in celebration with us. We think King Neptune would be pleased with our offering and the respect we showed the occasion. The festivities culminated for me when I saw the Southern Cross for the first time (someone should write a song about that). Allyn, I know how much you like astronomy. I wish you could have been here.

Today, I inaugurated the stove top cappuccino maker that Kim gave me for Christmas. It is a French machine, so it seemed appropriate. At home, I normally am at Café Acri before 8:00 a.m. each day. Today was really the first day I had even thought about it. Perspectives are certainly different out here.

With land hopefully abut 4 days away we are all starting to get a bit anxious. Hiva Oa can not get here soon enough for this crew.

Craig's Log
Another beautiful night of no sleep. In the real world, not sleeping ruins your entire day. Here the cool night time breezes, the zillions of stars, the moon rising, passing squalls and the sound of the waves slapping the hull entertains conversely from the suns domain. Not to mention, we can catch a few winks during the day to make up for it. So, tonight, forget the sleep thing, stay up all night, bump into the wall a few times and enjoy the show.

Crossing the equator is not something you do that many times. I'll never forget my first. But what really stood out was filet mignon and lobster tail for our crossing dinner. Sharon, once again, proved her culinary skills and this time, at 0 degrees. I'm mean really, steak and lobster?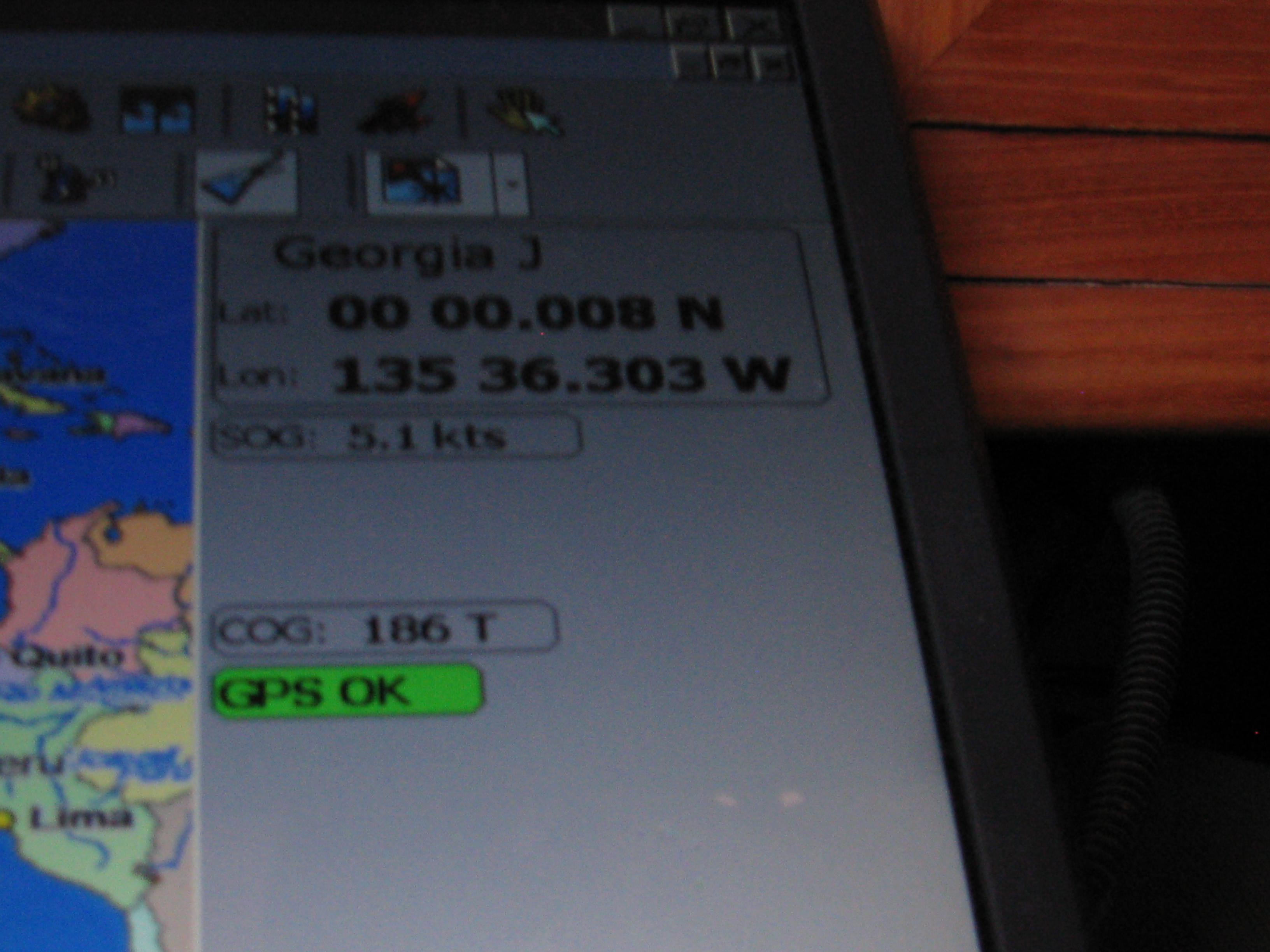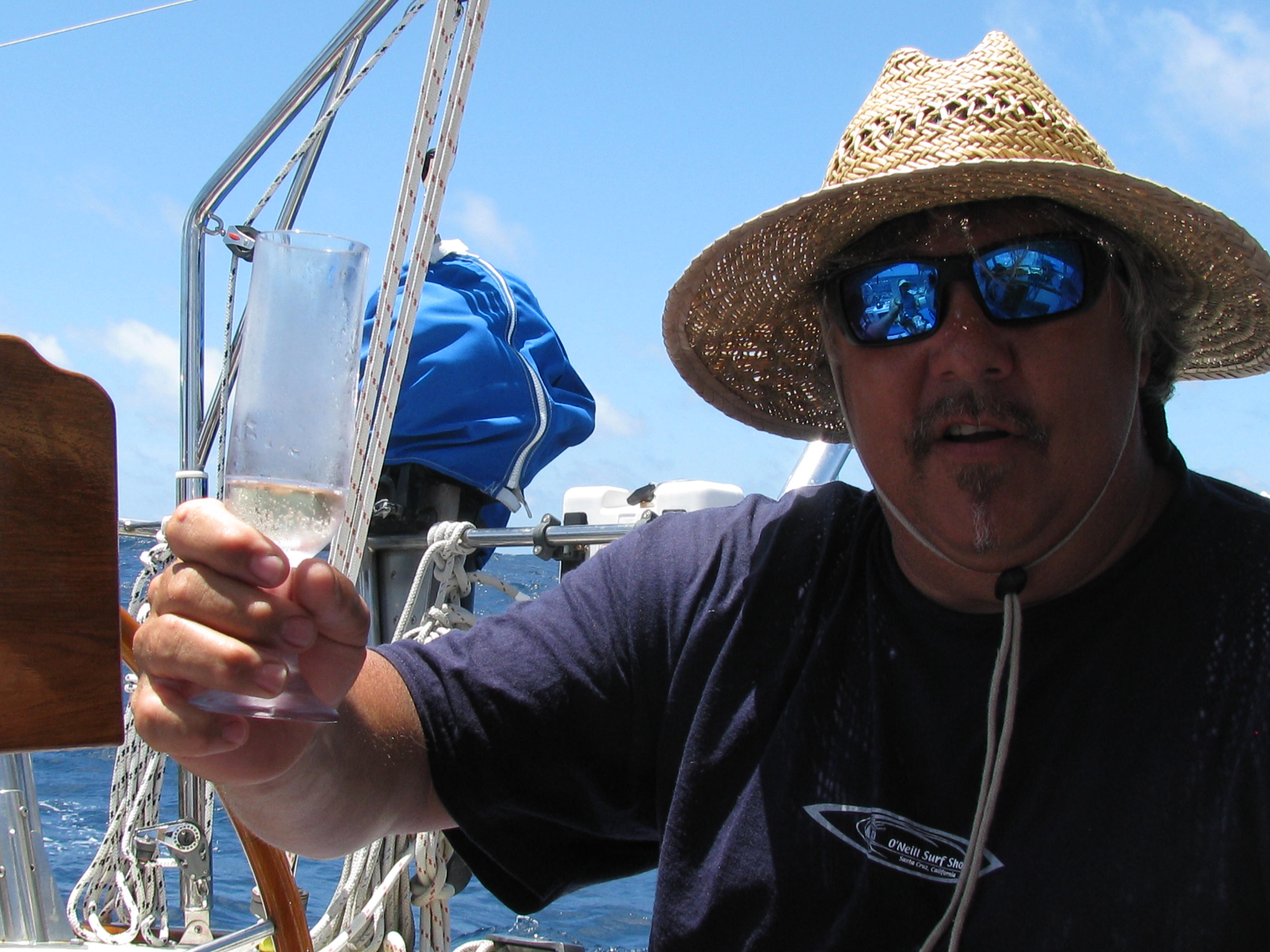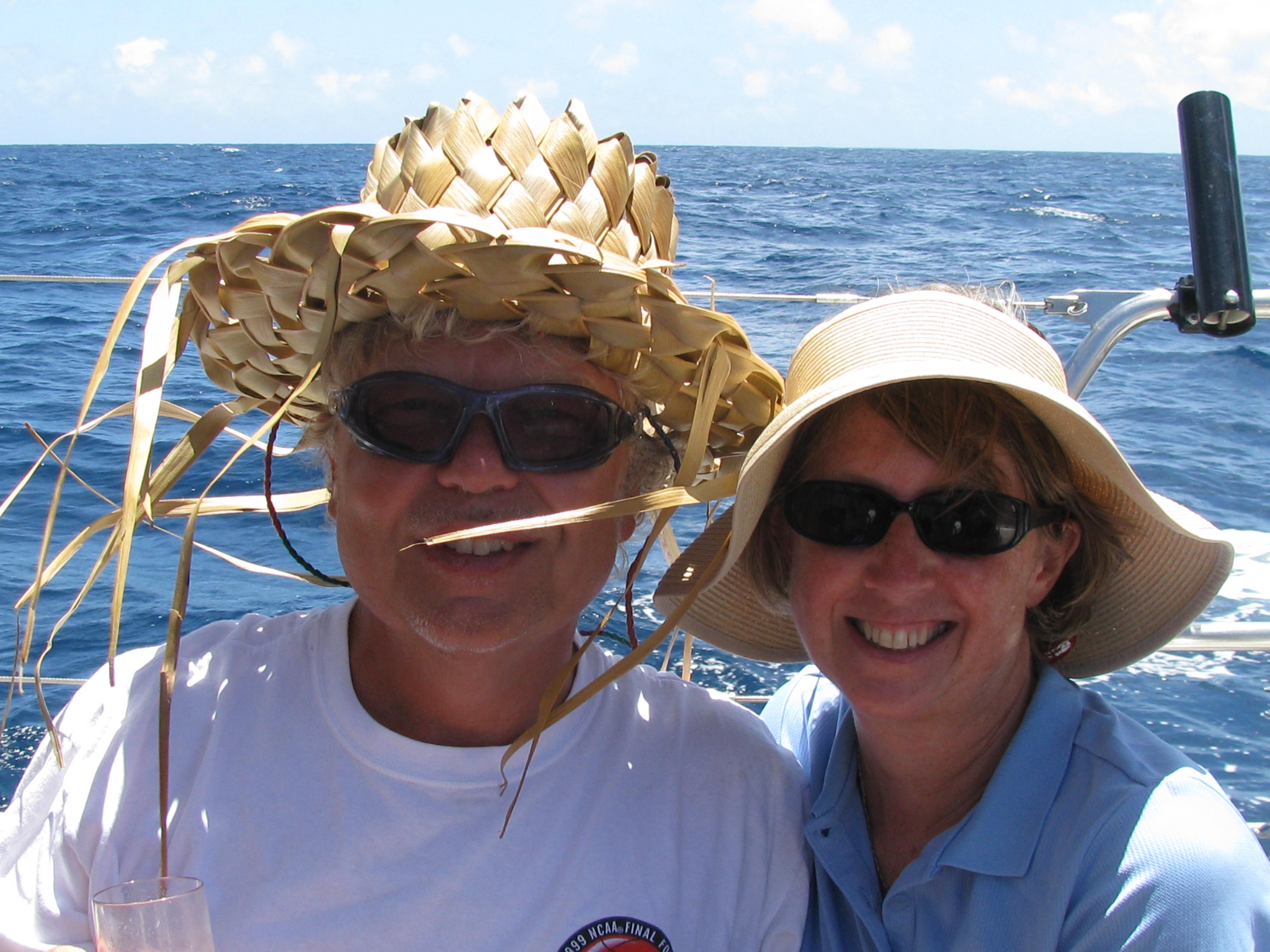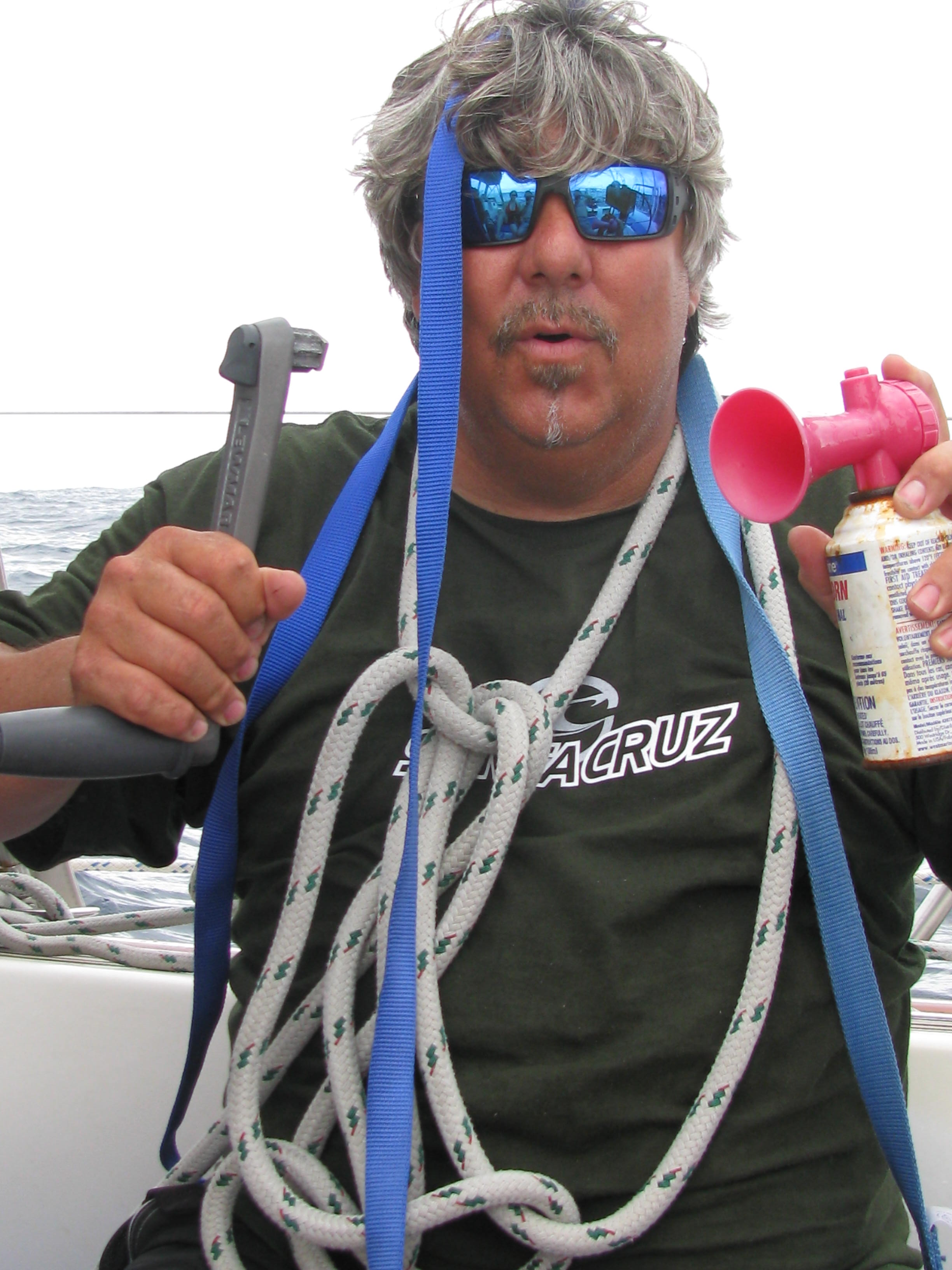 4/20/11

Sharon's Blog:

Finally, here we are. Today's the day "E Day"! The last 3 days have been relatively quiet, almost boring. Trust me, out here, boring is good. I have actually fond time to flip through a couple of cookbooks. We even played "Who's the Skipper", a nautical knowledge game Paula gave Kim. Guess who didn't win that one.

Today's events center around celebrating, paying homage to the gods (all of them!) and being grateful that we are still on track. We will be pulling out all the stops today; champagne, filets, lobster, and we are all taking showers today! Thank goodness for that new watermaker.

As you know, the last few months have been practically hectic and challenging. I am bouncing back remarkably well. I seem to have the energy I need when I need it. I will however be quite happy to hear that shout "Land Ho". I will be happy to have a meal somewhere other than my galley; anywhere will be fine with me.

Join us in a toast today, as we leave our pollywog status behind.


Craig's Log:

Big day around GJ. Every one is puttin' on their Sunday best. I even did some laundry in the bucket- it was getting bad. The weather is just what you would imagine and we are soaking it up and drying out. I've never been across the equator by boat, this has always been a goal and I couldn't of picked a better boat or crew to do it with.

Kim says there is a dotted line on the water when we get there. Who knows, after two bottles of celebratory champagne, it might be!

4/20/11
A Poem by Captain Craig

Pacific crossing, a story to tell
A special poem for my Sue Bell.
Southwest from San Diego with a gentle breeze
Georgia J, our boat, sails with ease.
I'm leaving the woman of my dreams
Only temporarily as it may seem

The wind and seas began to rise
Torment and fear in my eyes
The sails and keel yelled out loud
That there was a problem with our shrouds

With our lives at stake
A repair was needed to insure our fate
My life meant nothing on this sea
I had to get back to see my baby

We jerry'd the rig, and and made the fix
We're back on course to 186
I can sigh a relief that all is well
and dream of when I see my Sue bell!

4/19/11: Supplemental Log

A concern has been expressed that only Capt Craig is posting to the blog and that Kim & Sharon have mysteriously disappeared from the boat (like Dead Calm). In fact, we are here, but need more sleep than Craig. Current status is as follows:

We are out of the ITCZ. The sun is incredibly bright and the ocean is 81 degrees. To avoid heat stroke, the Admiral ordered a round of mandatory margaritas. We are motoring on a port tack with the next course adjustment at Hiva Oa, 738 miles away. Winds are light, but we have calculated that we have enough fuel on board to to motor 780 miles, plus or minus a couple hundred miles.

Here is a recap of equipment issues to date:

The good:
Icom 802 radio- email and transmission works incredibly well
Watermaker
Garmin instruments, computer, Nobeltec & radar
Refrigeration (Thanks Jeff!)

The problems:
Loss of lower shrouds- Falling masts are never good.
Generator- Overheating, then stopped working.
Refrigerator & freezer lids- hinges tore loose in heavy seas.
Contaminated fuel and water- should have added valves to all vents
Deck leaks- we had several small leaks from decks. Much of our clothing is soaked in sea water and will not dry. Really need a laundry mat.
Oven- Swings wildly at night ejecting pizza stone and pots.

We will need to do a fair amount of repair work in Hiva Oa and take on fuel. Unfortunately, we understand they are low on fuel and the supply ship does not arrive until 4/28.

Position at 22:56 UTC on 4/20:
01 54.28N
134 56.36W
Heading 187 true at 5.0 knts

4/19/11

Georgia J Position as of 1400 PST: N 02 04.4
W 134 53.2

Craig's Log:
We are frantically trying to get invites out for our Equator party. Dress casual, plenty of parking, BYOBoat.

Kim and Sharon are deep asleep. The constant movement makes you want to nap a lot. It is a very good sign that we are moving along smoothly, which we have been for the past 3 days. We are miles away from being out of the ITCZ, without issues and are sighting the Equator for sometime around noon manana. None of us have ever crossed, so we are a tub full of Polly Wogs until that moment at 0 degrees where we become Shell Backs. Sharon has steak and lobster, I brought a bottle of Dom, Kim has a little outfit he will share with us and, well....sounds like a party.
Hope to see y'all there!
C

4/18/11

Georgia J Position as of 1430 PST: N 04 08 01
W 134 31.3

Craig's Log:
What a pleasant, quiet evening we had last night. Wind has shut down to 10 kts and at low RPM's, the engine let off a hypnotic drone as we slice through the ITCZ. The moon was full and bright illuminating our way 'till the sun worked its way up the horizon this morning. All hands slept well enough that the low level of snoring harmonized perfectly with the engine.

Today, we have hit an area of moderate convection and have been dealing with thunder and lightning, multiple wind shifts and constant sail adjustment--still paranoid of the jerry rig. We do have good news as Kim and I took about a gallon of fuel off the bottom of our largest fuel tank and there was no indication of water. Woo hoo!

Yesterdays highlites: Plato pooped, Sharon made burgers, Kim read about squalls and I finished "Pirate Latitudes" by Michael Critchton (highly recommend) It seems as if we have finally settled down to the important stuff.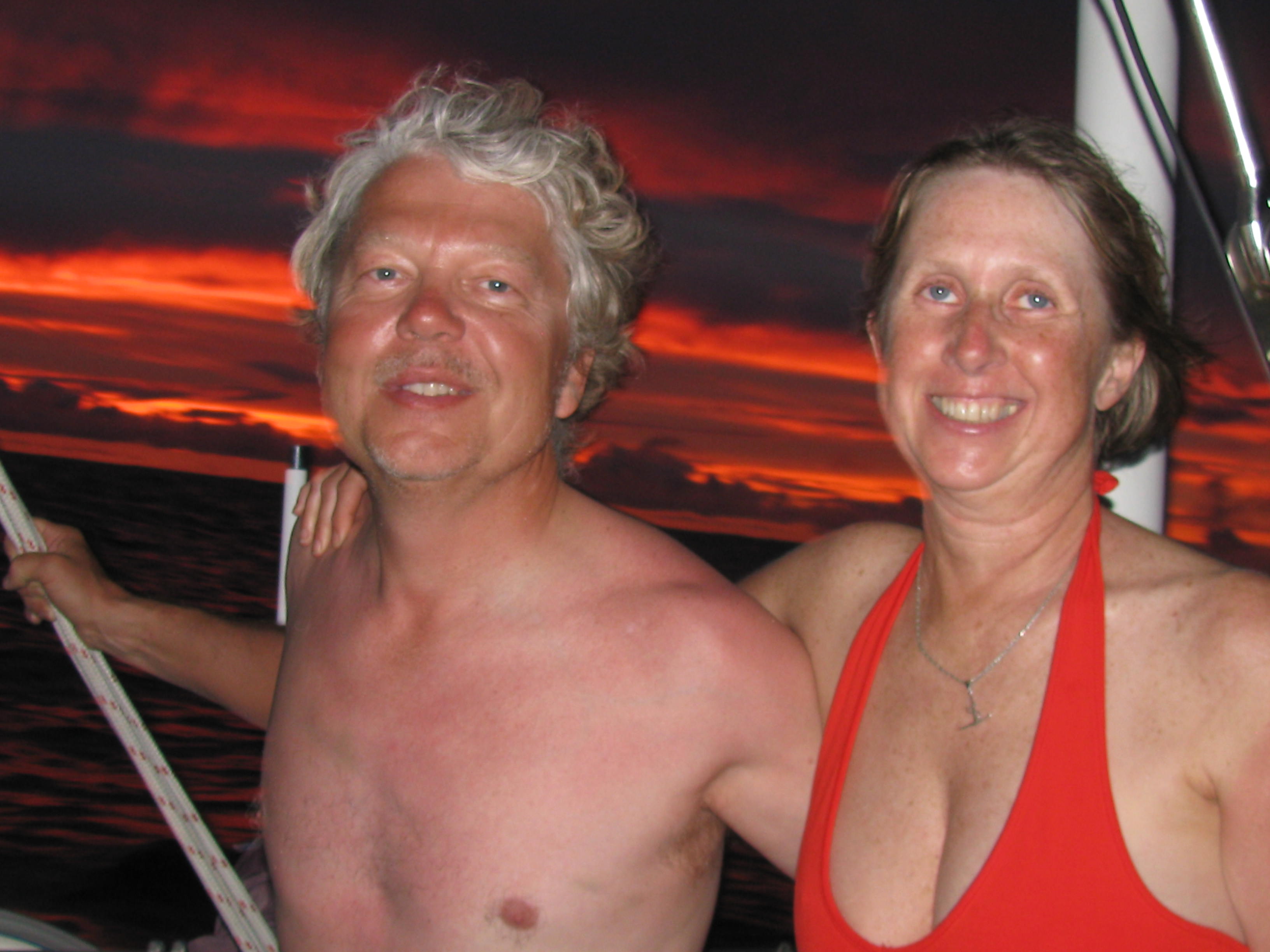 Sunset at Five Degrees North
4/17/11

Georgia J Position as of 1200 PST: N 06 19.8
W 134 32.7
Kim's blog:

We had some good news today. Our rigger has agreed to fly from San Francisco to the Marquesas at his own expense to fix our rigging and inspect the mast for damage. This is one heck of a warranty house call. We just have to keep the mast up for another 1000 miles to meet him.

We have now entered the Intertropical Convergence Zone (ITCZ) where the northern trade winds converge with the southern trade winds. The ITCZ is also called the doldrums since there is typically little wind and flat seas. Unfortunately, the doldrums also has severe squalls and electrical storms. So far, we have had 20 knots of wind, one small squall and no thunder storms. We are departing from the rhumb line to the Marquesas so that we can cross the ITCZ at a right angle and minimize our time here. Our weather router (www.weatherguy.com) tells us there is moderate activity, so our timing is good. We plan to motor most of the way which should take about two days.

Side note- We would like to thank everyone for posting messages to our blog. It is a little lonely out here. Reading these is a high point of each day.

Craig's Log
So what's the news. Is Kadafi still in power? is Japan still West of us?
Is Wilson back closing for the Giants? What's happening in the Champion's League (Jeff)? American Idol results anyone?

I was having a bad day yesterday- sorry 'bout the downer log entry. I'd rather have a bad day sailing to the South Pacific than stuck on hwy 17 coming home to Santa Cruz at 5pm on a Friday afternoon. Sorry Al, Brett and Albert. So far, so good on the rigging fix. I think about it constantly, especially with every good thrashing from an off course wave. I got to hand it to the rigger who did the work. Everyone makes mistakes, its how we handle it that tells the story. As Kim said above, He is meeting us at landfall to sort out the problem.

Just a note: Before the rigging failure, we were really flying. At the pace we were going and with the conditions we have seen since, our ETA to the Marquesis could of been 15 days! Georgia J is a thoroughbred, Bob Perry got this design right. She tracks well, punches through the wind waves, surges straight as an arrow off the swells and is balanced enough for the auto pilot to keep her on course. AND she doesn't need all her standing rigging to keep her going!

For the Barr contingency, Kim and Sharon are doing great. Sharon has provided excellent meals during some pretty rough conditions. For those of you that have done some passage making, you know a hot meal goes a long way a rough night. As for Kim, holy cow! The guy is all over the systems on this boat and his 4 trip day up the mast was fearless. His body, literally was covered in bruises.

Two last notes:
1) Kim believes that Plato might be the only Schnauzer to make a Pacific Crossing. if not, at 14 he is definitely the oldest. Somebody get him a booking on Letterman

2)Sharon, at the delight of her crew, has shaved her port armpit. I have to say, it made me feel like I was back home in Santa Cruz though.

4/16/11

Georgia J Position 1600 PST: N 08 08.6
W 134.21.1

Sharon's Blog
Yesterday and a bit today brought a much needed respite. Odd, isn't it that I can call 8-10ft waves a respite! The prior 48 hours was one of the most physically and mentally challenging in my recent memory. However, we have faced each challenge head on, with a positive attitude. It is true they say that a boat can only have one captain- let me just say, I am darn glad that we have both of these two captains, on board and working together to come up with resourceful and creative ways to handle our problems. Now, if they would just get those waves down another notch...or two!

Craig's Log
We are within 2 degrees of the ITCZ (inter tropical conv zone) or "in the caca zone" Its muggy, sea is confused and squalls are surrounding us. There is no rhythm, no order, no pattern to our movement. I also realized I brought two books that i have already read, I'm running out of cloths and we cant sail over 5 knots because of a rigger that did not secure a a bloody nut! Thats right I'm bitchin' and Ive had it. Time for a nappy poo.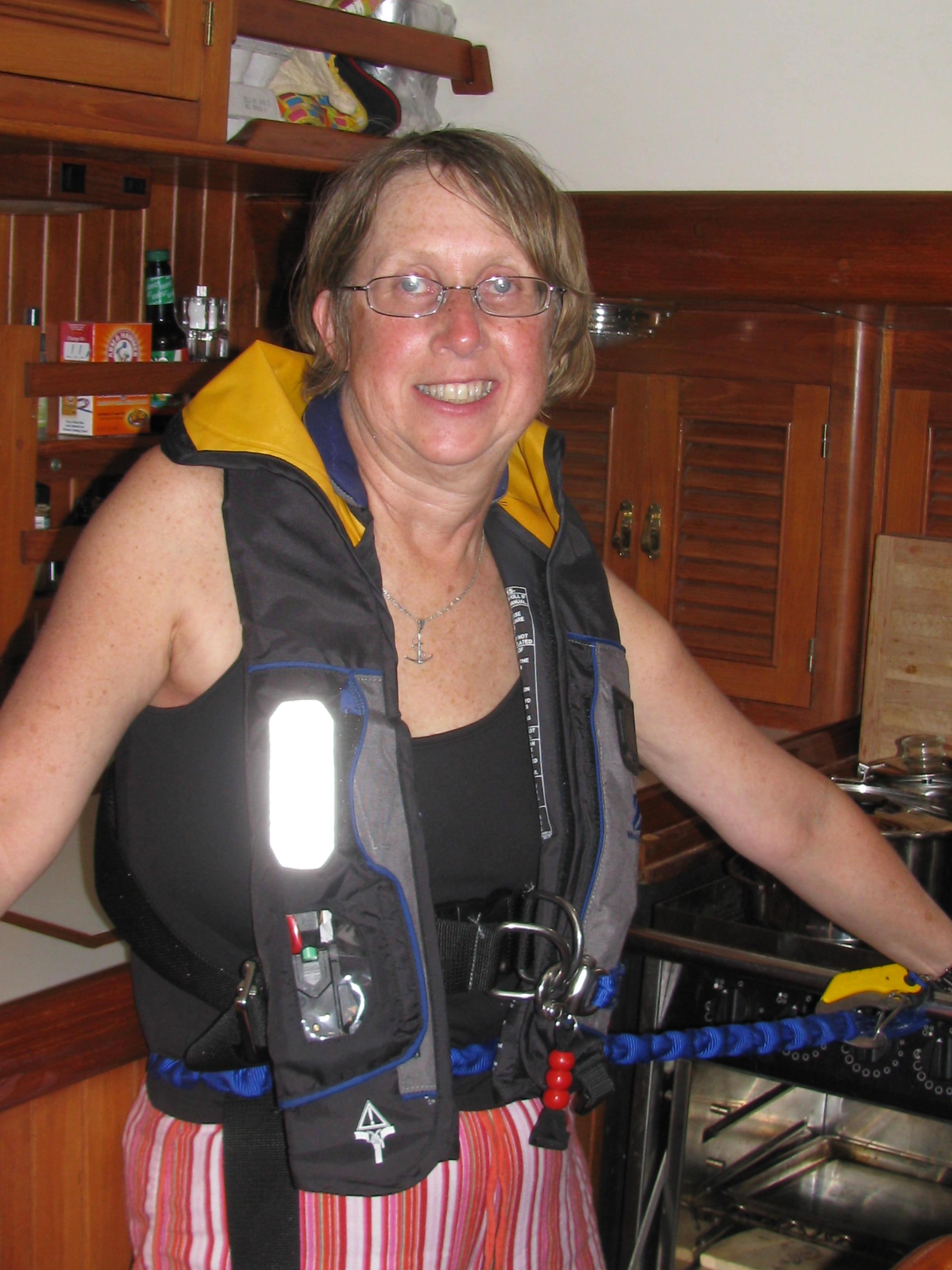 Cooking while tethered to stove
4/15/11

Position: 10 32.5 N, 133 50.23 W.
Course: 180M
Time 20:51 UTC 4/15

Today is a better day. The sun is out and the waves are smaller. We worried all night that the jerry rigged mast would fall since we were in big swells that heeled Georgia J from side to side every 2-3 seconds. However, the mast seems to have stopped pumping and we are more confident it will hold.

We think we have gotten rid of the water in our main fuel tank and are motoring to charge batteries. The only problems today have been one water tank which is contaminated with sea water and a severely stopped up toilet. Both are also almost fixed.

Plato has developed a taste for the tiny fish that fly into our cockpit.

Only 1222 nautical miles to go!


Captain Craig's Log
Speaking of logs, shout out to Kim for diggin' into the head stoppage this morning. We are back on tract with a noticeable limp. Murphy, Gremlins, bad kharma and not contributing enough rum to our fallen privateer's resulted in contaminated fuel, contaminated drinking water, failed rigging. Which means at one point we could not charge the batteries, operate under engine power or sail the boat --about 1700 miles from land. Pretty much up that well known creek. We attacked each issue, jerry rigged some areas and are back on course- happily I might add. On a personal note I want to add that those failures were not in any way a result of Kim and Sharon's flawless preparation and organization of Georgia J. Enough said, especially if you know the Barr's.

I finally took a shower and have lost my dreads and have gained my ability to be stealthy upwind again. Its time for a Cuba Libra and you can bet the first sip is going over the side.
Hi Sue Bell xoxoxo


4/14/11

Today was not a good day. As the sun came up this morning, I noticed some loose shrouds. It turned out that a nut holding four shrouds at the lower spreader had come off and we had lost four shrouds which support the lower part of the mast. We took down all the sails as soon as possible and tried to come up with a plan. I went up the mast three times in 15 foot seas and was able to jerry rig a metal rod to hold up the shrouds after three tries up the mast. Unfortunately, this fix only held for short while.

After talking with two riggers, I went up again and secured two lines to the shrouds and mast to stop the mast from pumping. We now have only a reefed jib out and are making about 5 knots on course. We have a couple of additional ideas, but need calmer seas to do a more proper fix.

We have been able to run the engine periodically to charge batteries while constantly draining filters.

Very tired, but no immediate danger.

Position at 03:50 zulu 4/14:

11 54.18N
133 17.00 w

Speed 5.0 knts
Bearing 180 M

presure 1009 - up 1 in last hour
Seas NE at 12-15'

Intentions- sail roughly 180 M towards ITCZ. We have a jerry rig backup plan in case mast comes down.
4/13/11

Position at 00:29 UTC on 4/14:
13 10.4N
130 48.9 W

Heading 234 M
Speed 8.0 knts

Kim's blog-

The last 2 days have been difficult. Salt water entered our main fuel tank and one of the water tanks. We were able to dump the water and replace. However, the fuel problem was more difficult. Ultimately, we took a lazerette insert out of the cockpit, hand pumped about 30 gallons of fuel into the insert (while in the salon in a rolling sea). We then filtered the fuel back into the tank with a baja fuel filter. After draining the racor filters about 50 times, we were able to get the engine and generator running. Craig also installed a valve on the vent line to prevent more contamination. The other big task of the day changing reef line rigging since a block broke last night during an accidental jib during a squall. Very tiring days, but much better than hand steering if the autopilot does not have electricity.

The batteries are now 75% charged and we were able to run the refrigerator for a while. We still have to fully charge the batteries, run refrigerator and make more water while draining racor filter every 10 minutes.

Hard work, but an excellent result.

For my friend Tony- You were right. Solar power does work. My two small panels produce enough juice to run the autopilot. Of course, it helps to be in the tropics.

It is getting hot. We must be getting closer to the equator.

4/12/11

Erica's Log

My parents called this evening via sat phone to give me an update and they wanted me to post an entry here for everyone. The crew is fine but Georgia J is having some mechanical problems. They have taken sea water into their fuel and water tanks via the vents. They have plenty of food and uncontaminated drinking water, so they are in no danger. However, they need to pump the fuel into containers and filter it in order to run the engine and keep the batteries charged. Needless to say, this would be much easier if the sea were calmer. In the meantime, they are going to try to conserve battery power as much as possible. That means for now they will not be using the computer and so will be unable to send updates for the website. They also reported that they are finally in warmer weather which everyone is appreciating and that Plato is feeling much better.

Position N14-20.7 W127-55.5

4/11/11

Position:N 17 19.4 W 126 29.5

Sharon's Blog

The highlight for me yesterday was speaking to my parents, Erica & Connor--although, I do realize that Connor was more excited about being allowed to get up when he was suppose to be napping than he was about talking to Grandma on her boat. Kim promised me only 6 days of cold weather sailing and sure enough, day 7 blew in with blue skies and sunshine. We have officially, "hit the Trades" --If we could only get a little bit smaller waves.

Captain Craig's log

The highlight for me was getting to speak with the love of my life, Sue Bell. If you are reading this, I miss you, wish you could be here. With every degree of latitude, I come closer to wrapping you up like a spicy burrito.

There is a clarity to a midnight watch. How often in the day to day do we have 4 to 5 hour our eyes wide open, no company, no television, no texting, no internet? Answer: never... but I highly recommend it. Your brain goes into overdrive and thoughts, visuals, and memory that are buried deep in your grey matter come up for a breath. Last night, I was backstroking through those thoughts when the boat rounded up and the cockpit filled with water. I dont know if it was me who caused that or just mother nature governing my visual at that moment.

FYI: Sharon just announced that Kim and I have to get over her one hairy armpit. After all the space rays she has been hit with, she can't shave until April 17. That, for sure, will be the highlight of that day.

Kim's Log

The Pacific Ocean is much bigger than I realized.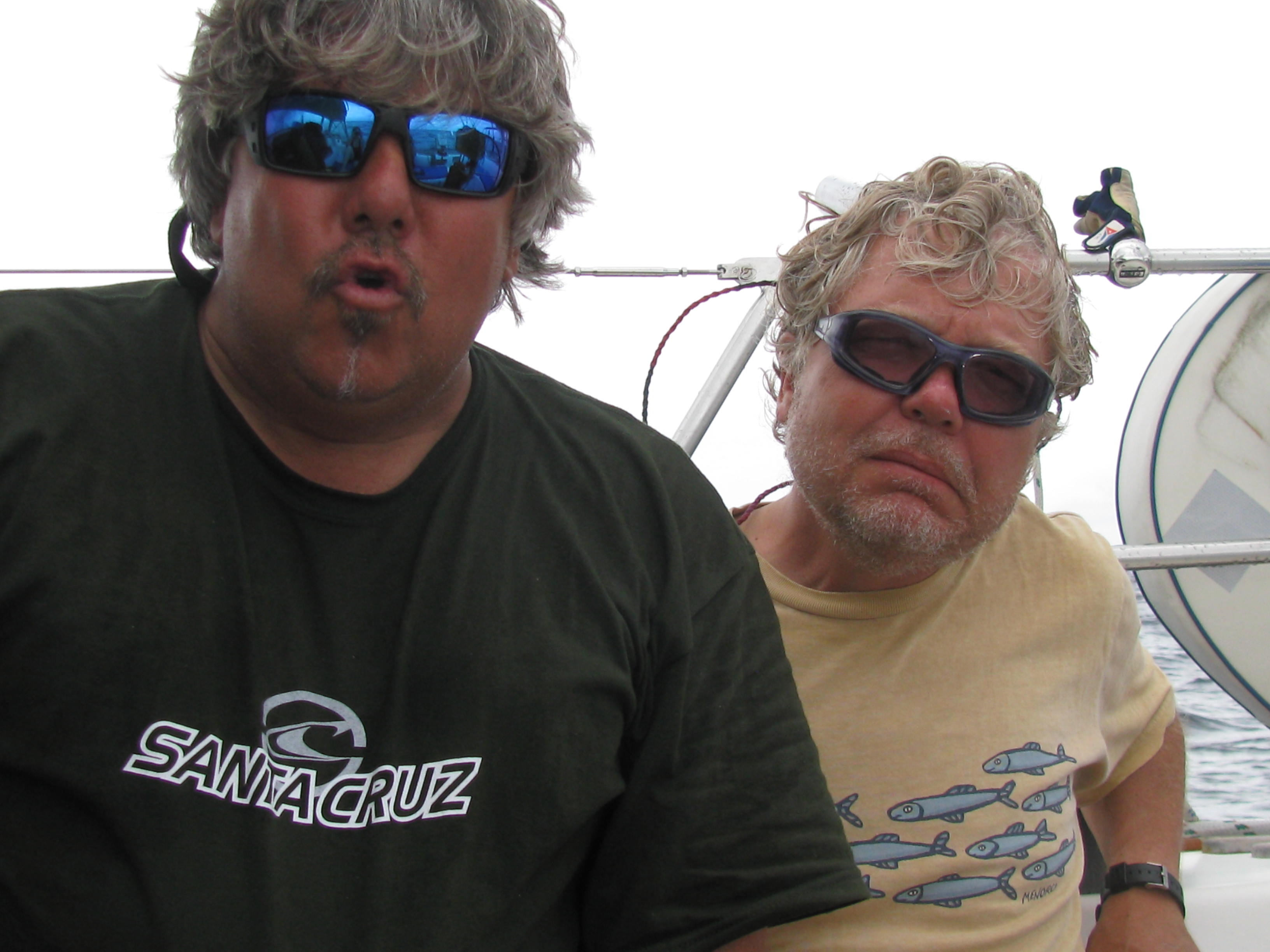 Pirates at sea
April 10

Position 20 23.04 N, 124 50.15 W -nearest land is Cabo San Lucas 850 miles
Distance traveled in last 24 hours 174 NM

Sharon's log:

Today is my Dad's 90th birthday. I was just able to speak with him on the satellite phone. I am so greatful to my family for being able to celebrate a few weeks early. My Dad is an amazing man, a WWII veteran, a farmer, a good neighbor and friend, a devoted husband and without a doubt a wonderful father. He may not understand why I would want to do this particular adventure, but in so many ways he is the reason I am the kind person who is willing to take it on. Happy birthday Daddy.

Craig's log:

We poled out the jib, prevented the mainsail and headed more South yesterday with the swell pushing us along nicely. Prior to, we were on a port tack which allowed me to tuck up comfortably to the side of the hull on my bunk. With our new point of sail, the boat might be well balanced and sailing fine but I am a complete mess in bed. I have to sleep in a three point stand, wedge pillows on either side of my hull and sleep while keeping a rhythm to the sea.---Last night around 0100, there was a slight clearing in the sky. There it was, slightly tilted low on the horizon and framed perfectly along side the mast, under the jib and above the deck--The Southern Cross. What a beautiful target to take bearing.


April 9

Position at 19:00 UTC on 4/9- 22 54.09N, 123 21.5W. (732 miles west of Cabo San Lucas) Course 212m Speed 8.5 knots. Swells 10-12' on beam at 10-12 seconds. Another 200 mile day. Cummulative miles 804

Sharon's log:

Yesterday morning we had our first hint of the sunshine to come. The sun was out. We had the Rolling Stones cranked up in the cockpit and spirits were high. I had gone down to make a round of Bloody Marys when the first squall of the day hit. Throughout the day we honed our storm tactics. The first of which is to remove Plato from the cockpit and secure him down below. I can hear the groans now- poor Plato. I have faced many culinary challenges, but trying to prepare a warm meal will dodging squalls rises to the top of the list. Tonight's meal will definitely have fewer ingredients.


Captain Craig's log:

Blue skies, blue water and puffs of cumulus clouds freight training above my head. Now, that's what I'm talking about! 4 days, 804 miles-the numbers dont lie, we are haulin' ass. Late afternoon yesterday, we punched thru a squall line and slolum'd over our course. We were sailing fast and hard. The autopilot was having issues keeping up in the gusts so I took the helm and had some fun. I had one of those moments when I wouldn't want to be anywhere else but here--until I took 300 gallons of seawater into the side of my head and felt the cold water slowly dripping down my long johns. At that moment, I wanted to be in a hot shower at home with Sue Bell--not here.


Kim's log:

I know it is rough out here since my wife is serving the salmon bagels without capers.

Total squalls yesterday- 5 plus 1 false alarm


Hard to Stay in the Bed in these Seas
4/8/11

Position 25 14.73N 121 32.06W at 18:10 UTC.(about 500 miles off coast of Baja Peninsula) Speed 8.0 knts. Course 190T

Kim's entry:

April 8- Last night was a magical midnight watch. After blowing 15-25 knots for days, the wind suddenly died at midnight. The sky opened to reveal millions of stars. In the far distance I could hear the eerie song of whales. I had heard them before, but never at sea. I called Capt Craig to confirm I was not going mad. We listened to their songs for half an hour. Then the wind picked up, the clouds covered the sky, and Georgia J took off. A hint of wonders to follow.

Captain Craig's Log
-Last nights hot chili not only satisfied my hunger but kept me warm in my oil skins throughout my watch. The wind let up early in the morning (0100) and the sky opened up for the first time illuminating a splattering of stars. The whales moaned as if to say the starry show was a short one. They were right, it rained most of my watch and the temp dropped as well.
- We really are making amazing time. Georgia J loves this point of sail and she is a joy to sail. 6 knots seem slow now as we have been averaging over 8 with a reefed main and a 90% jib. Well, another day logged and all is unexplainable as ever. Its now time for the third phase of the chili.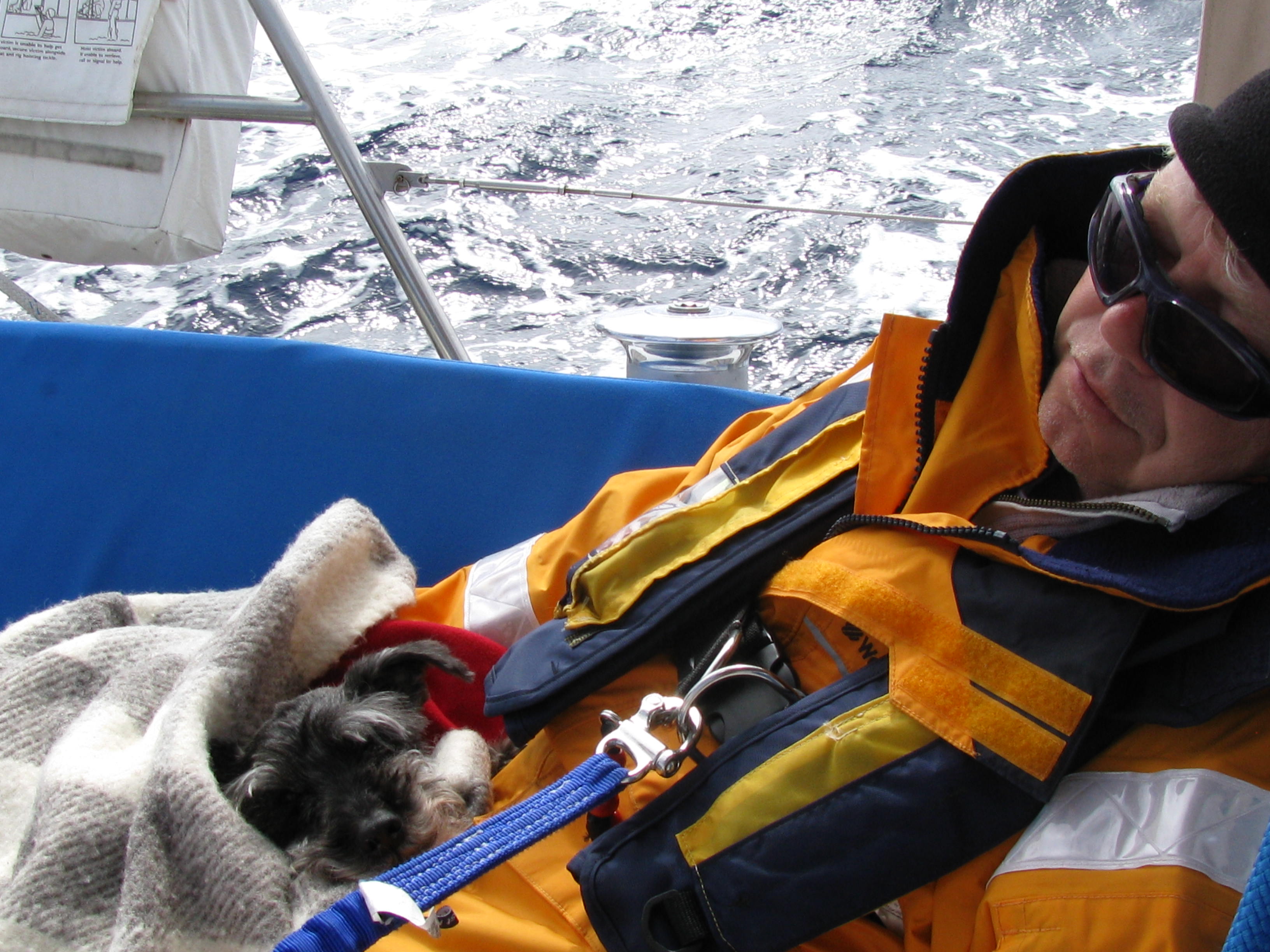 On Watch In Colder Latitudes
4/7/11

Sharon's Day 2 was a lot like the fist day, except we did not have any warm sunshine or gentle breeze. Strong winds and high seas have kept us rocking and rolling. Mid afternoon, we reefed the main and hunkered down for a long night. Capt Craig pulled more than his share of the night watch, giving me some extra sleep. I suspect he knows I finds these seas a bit intimidating, especially at night. The sustained 10-12' swells, the highest this sailor has experienced are no problem for Georgia. She slides through the waves with far more grace than her crew.

Kim & Plato are both feeling better, but neither one is quite their normal frisky self yet. My carefully thought out plans for nourishing attractively presented meals have been put aside for now. The crew is having to make due with what I can quickly pull together, while performing impressive feats of balancing and acrobatics.

The good news is that we are flying (under control, points out Capt Craig). By the end of our second full day, we have covered 404 miles, far better than expected. But I ask "my Captains" where is the light down wind sail I was promised?"

Capt Craig's log:

Everyone should live their life at 15% heel, it puts life in perspective. Georgia J rocks! She is handling the wind and wave like a hot knife thru butter. I'm loving the 200 mpd reach. Just like the song says, "sailing a reach in a following sea." The only sane one on board is the dog, Plato. I can see in his eyes "wondering where is the warm house with a view of San Francisco and why in the hell did they ever leave home." I love you Sue Bell.

Kim's log: Quote of the day comes from Erica:
"Poor Plato, he was just an innocent bystander." Erica- the electric wrist band you gave me for Christmas cured the sea sickness within 1/2 hour.

Postion at 21:49 UTC on 4/7: 27 22.89N 120 26.6 W (about 300 miles offshore from Baja Pennisula. Course 205m, Speed 8.0 knts.


04/06/2011
GeorgiaJ
Position: N 30 30.87
W 118 36.9

Georgia J departed at noon on what looked like a day made to order: warm sunshine and 12 knots of wind. Kim, Craig, and I enjoyed a relaxing lunch in the cockpit and life was good. Soon, however, the wind and seas picked up, hitting us directly on the beam, making our first night a very rolly one. Fortunately, I had pre-made "overnight passage" minestrone soup--cooking was pretty much impossible. Unfortunately captain Kim and his faithful companion Plato the schnauzer have fallen hard with sea sickness. The true bright spot in this story is that we are making AMAZING time- averaging between 6-8 knots! Captain Craig calls it "money in the bank", but I would have been happy with a bit less.

Captain Craig's Log:
As Murphy's law would have it, wind was ahead of the beam as we left San Diego. I seem to always be searching for that warm breeze and following seas-- apparently that does not happen until later! Highlites of our first 24 hours were finding two of my chicken's eggs (one whole, one scrambled) in the pocket of my jumper, hearty homemade minestrone soup for dinner and a galaxy of phosphorescent particles in the head at 0400. It's nice to be in the arms of Mother Nature once again ;)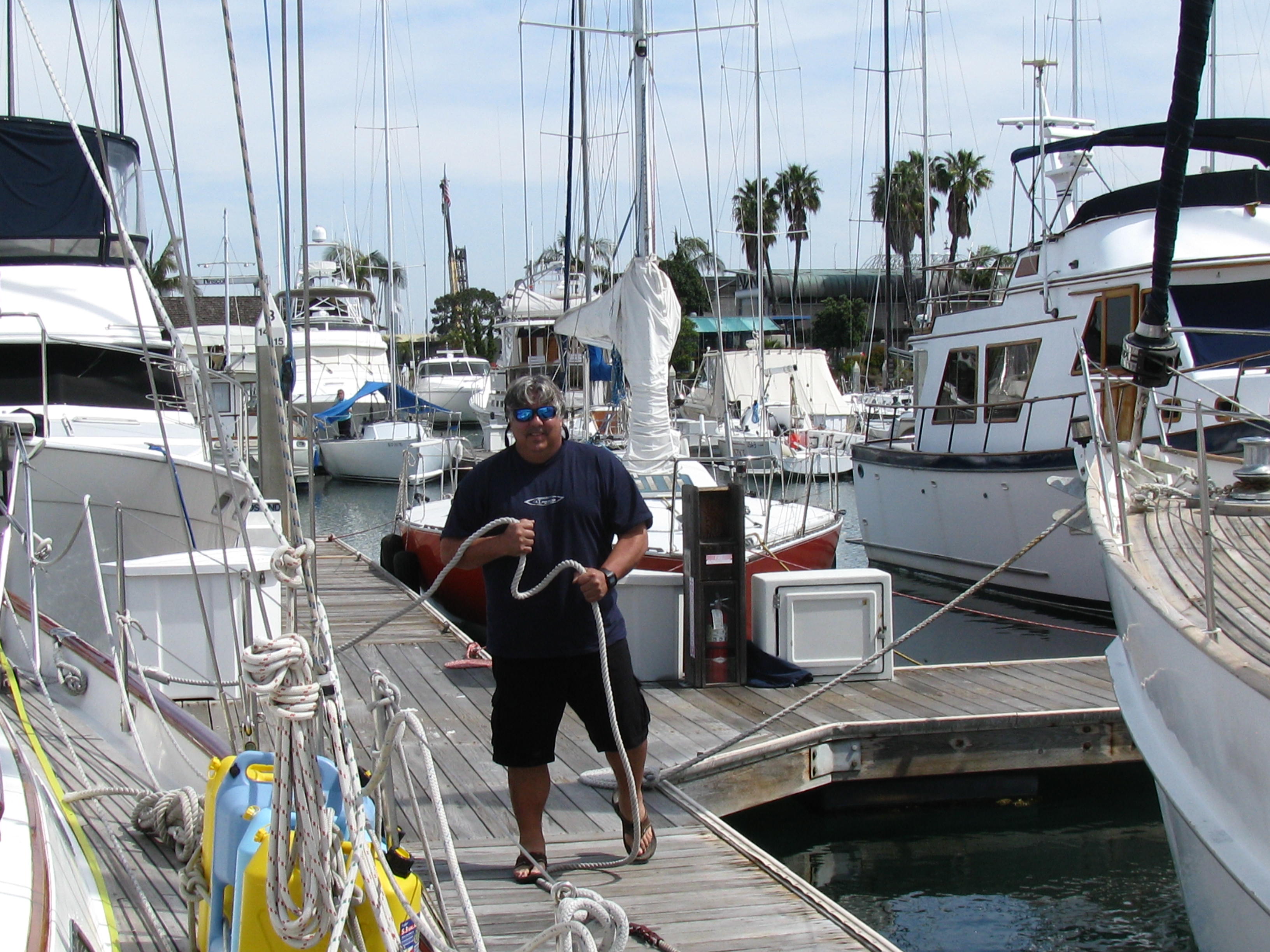 Casting off for Marquesas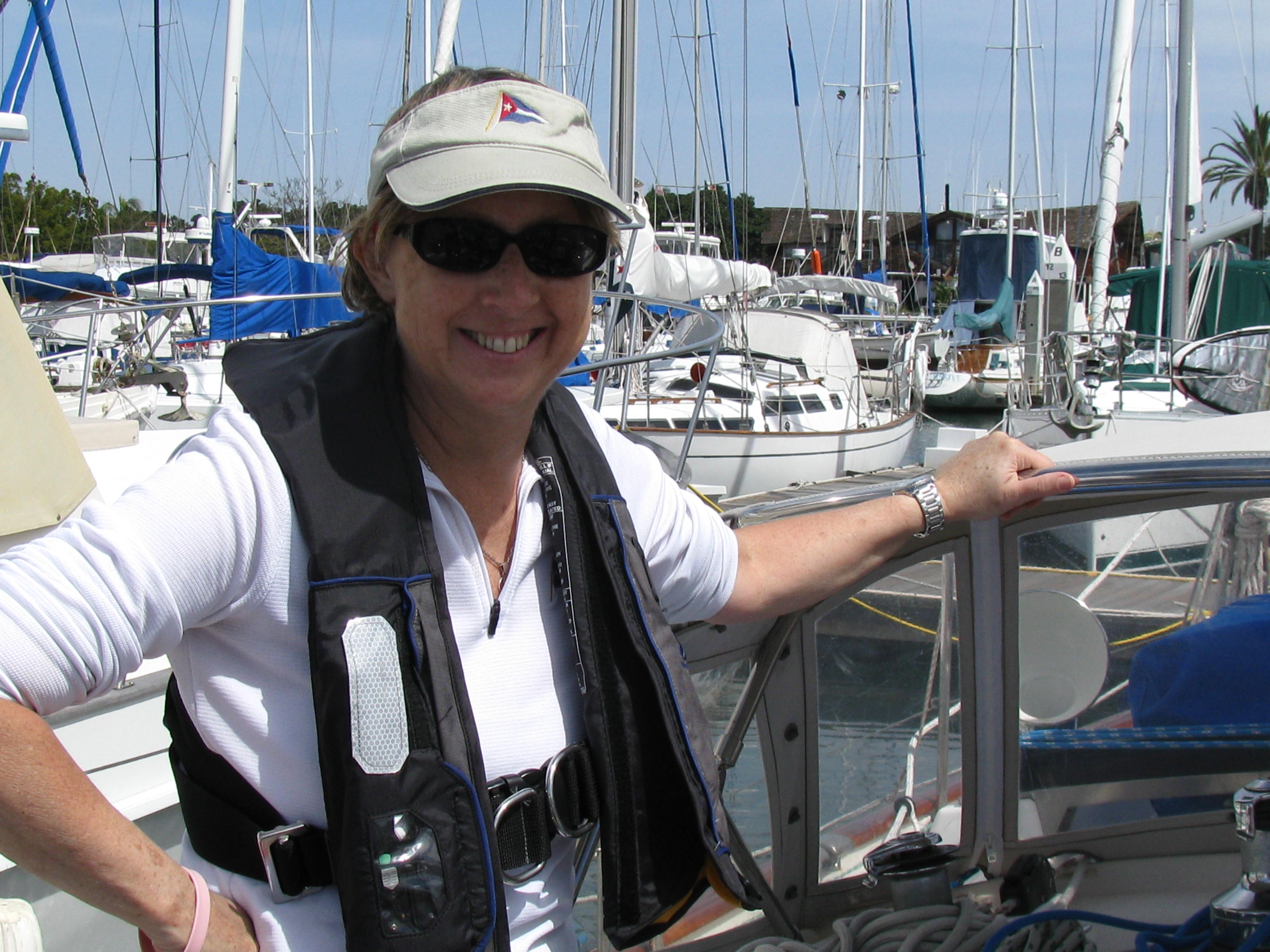 The crew of the Georgia J before setting sail from San Diego on 3/5/11.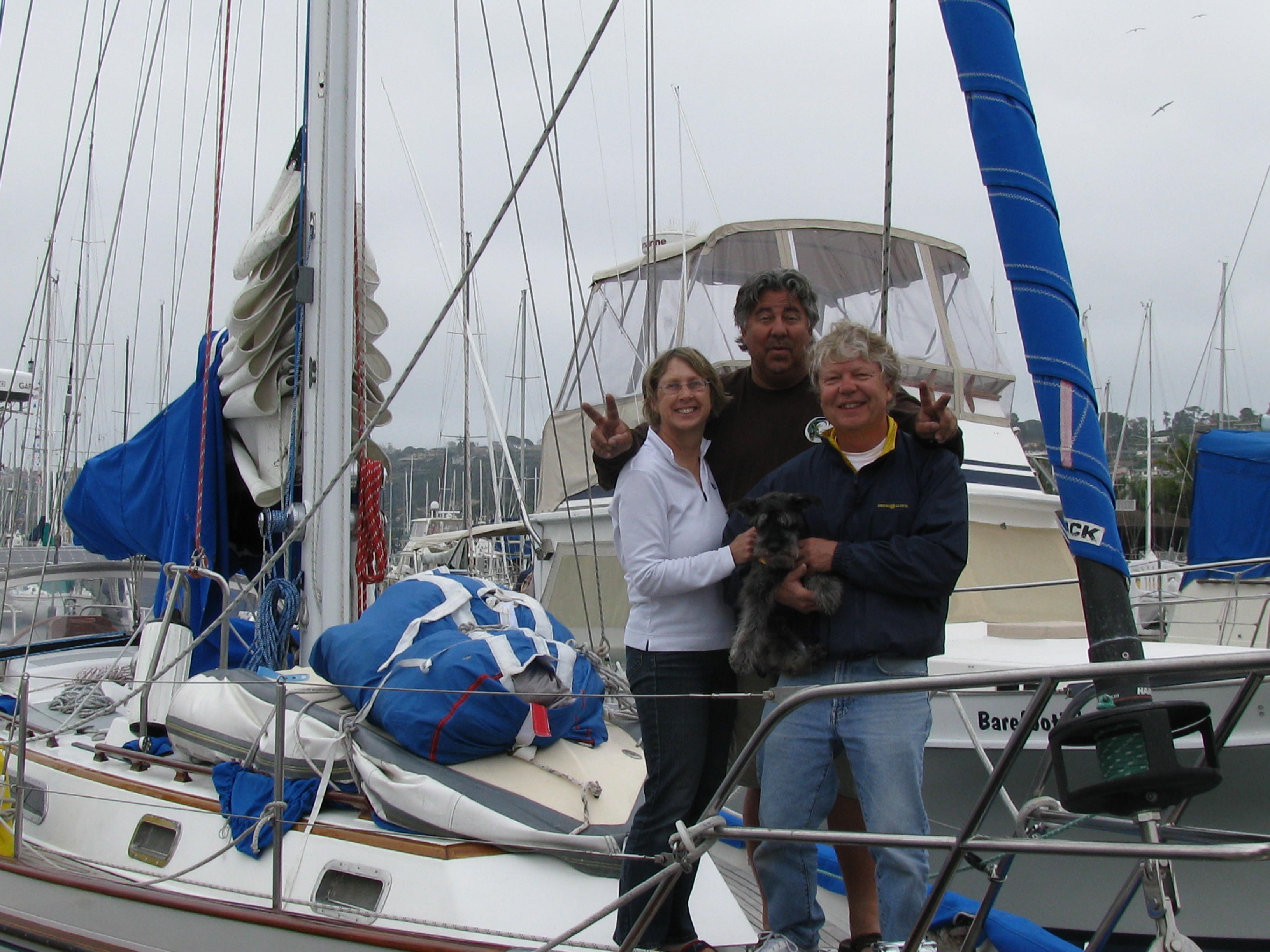 April 4th:


Today was a frantic day of last minute preparations. We had the bottom cleaned, the compass swung, a door trimmed to fit and the fuel tanks filled. Tomorrow we get a new jib halyard and plan to leave the dock at 10:00 am.
Only one crew member is not cooperating. After 14 years of being house broken, Plato refuses to pee on the boat. He held it for 18 hours and only gave way after receiving a cold cockpit shower. Pretty good for an old guy.
Captain Craig has offically agreed to go!
We are extremely pleased that our friend, Captain Craig, has agreed to go to the Marquesas with us. He is not only a good friend, but is also a skilled professional Captain with vast blue water experience.
April 1st: We are on track for April 5 departure!

We have been working extremely hard at the San Diego Yacht club to get ready to go. Our biggest projects have been replacing the radar and rigging the boat for the genniker. We also have a never ending list of small projects ranging from defrosting the refrigerator to cleaning the bilge. We now have enough canned food to cross the Pacific several times and avoid even considering Plato as a source of protein. Sharon will cook many meals for the freezer tomorrow and will buy fresh foods on Sunday.

We had a treat yesterday when our weather router, Rick Shema, made a visit to our boat. Rick was formerly the Chief Meteorologist for a US Navy aircraft carrier group and is also an avid sailor. He happened to be in San Diego and took time to stop by and get introduced. We learned a ton and really appreciated putting a face to the person we are depending on. Rick is predicting light winds (i.e., a slow trip) for next week.