Kim's Log 7/30/11: We are still in Bora Bora. Looks like the weather will be favorable to leave for Suvarow tomorrow morning.
American WWII Cannon on Bora Bora
Kim's log 7/25/11:
Our departure from Bora Bora has been delayed. We had bought all our provisions, spent our last franc and hoisted the dingy. However, our weather router (www.weatherguy.com) says the trip would be pretty rough and recommends that we wait until Saturday or Sunday. We will take his advice and hang out here for another week. Unfortunately, our visa expires tomorrow and we become illegal immigrants. If they catch us, we will undoubtedly be sent to Devil's Island in French Guiana like Papillon. s/v Georgia J-Anchored at undisclosed location
Sharon's Log 7/21/11Our time here in Bora Bora has been busy, preparing for our next passage and spending some time with friends who have just caught up with us. The Bastille Day festivities officially ended last night. I can't say I will miss the nightly drum beat. Kim and I have made some real progress on our boat chores. We are actually so caught up, we are even finding time to do a bit of polishing. Recently, I have been struck by how things which seem ordinary here would seem quite strange at home. For example, hitchhiking is a accepted mode of transportation, and we think nothing of rolling a shopping cart along a major highway. Of course to get your 100 francs (just over a dollar) back, you have to find a group of carts to hook into. The other night Kim and I came back from the dancing to find ourselves locked out of where we had docked the dingy. With no other recourse, we scaled an eight foot wall. We were quite proud of ourselves for making it over the wall without being arrested! We were very pleased to have guests from home. Preston and his new bride, Lara, here for their honeymoon spent the day with us. Boats are starting to leave French Polynesia. Several of our friends are already underway. Kim and I hope to begin our net passage on Tuesday. This weekend, we will finish provisioning, finish all of our boat chores and hopefully get in a bit of touring. s/v Georgia JAnchored at 16 30.033 s, 151 45.240 w
Preston & Lara on Day Sail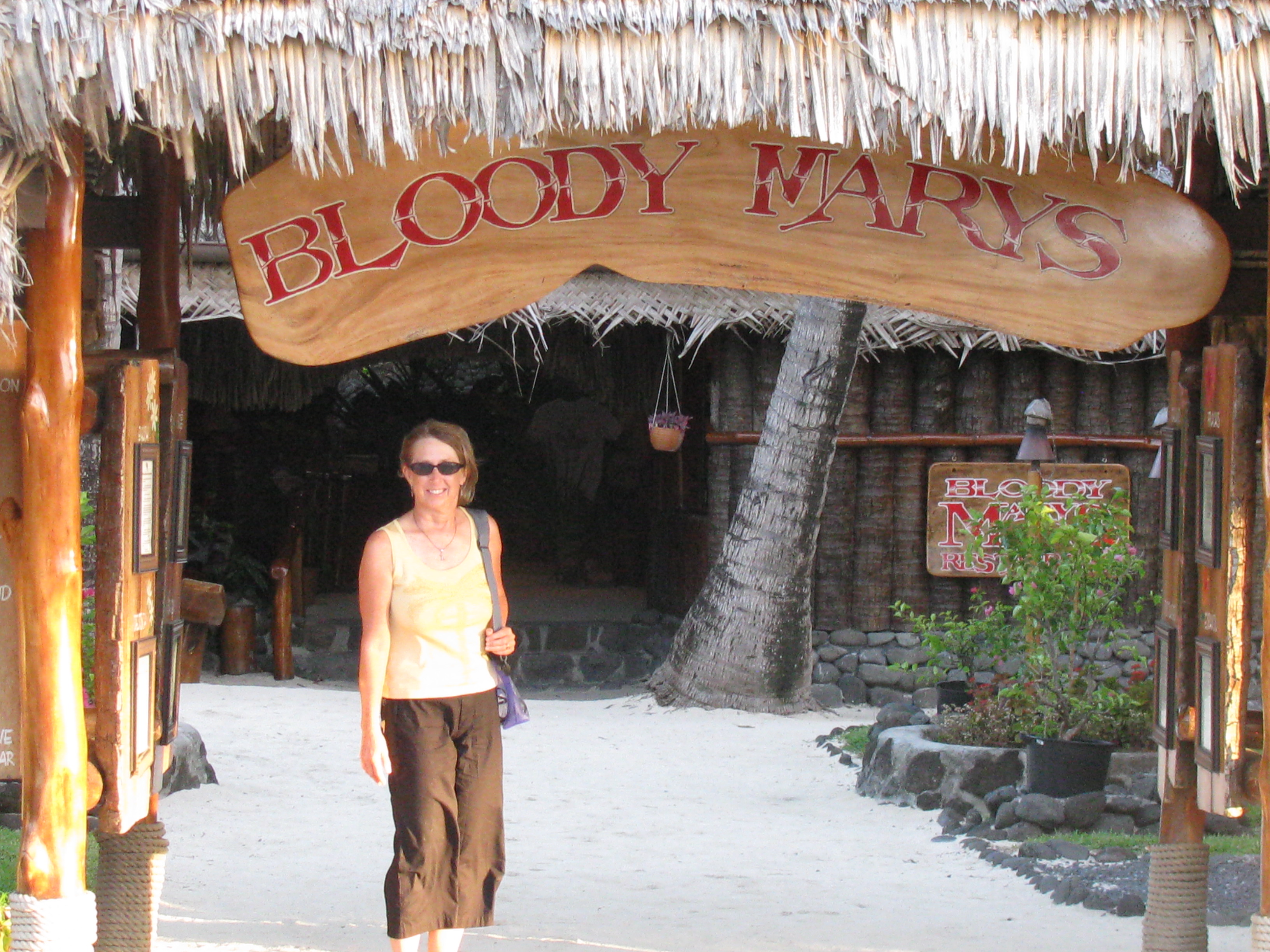 Bloody Mary's - Most famous bar & restaurant in the Pacifi
Kim's log 715/11:
We are now in Bora Bora, reputed to be the prettiest island in the Pacific. Although a bit touristy, it is very beautiful. We enjoyed the Bastille Day festivities. I particularly liked a women's banana race where each woman ran with a heavy load of bananas competing for the affections of the village men. One woman even fainted in the hot sun. If only Sharon would deliver bananas to me so rapidly.
This is likely to be our last stop in French Polynesia. Our visa expires on July 26th. Our next leg will be the first really long passage with just the two of us. We will be headed for Suvarow, an atoll which is 687 miles away. The passage should take 5-6 days. Suvarow is an island owned by the Cook Islands where only two rangers live. We are preparing the boat and purchasing gifts for the rangers. Apparently, they are very welcoming but always in need of basic supplies like flour and gasoline. Snorkeling and scuba diving are magnificent there, but the sharks are quite aggressive. Last year, a shark came out of the water to try and steal a fish a cruiser was cleaning on the shore. Another shark knocked at the cabin door of a boat during the night poising a delivery boy.
s/v Georgia JMoored at 16 29.985 s, 151 45.488 w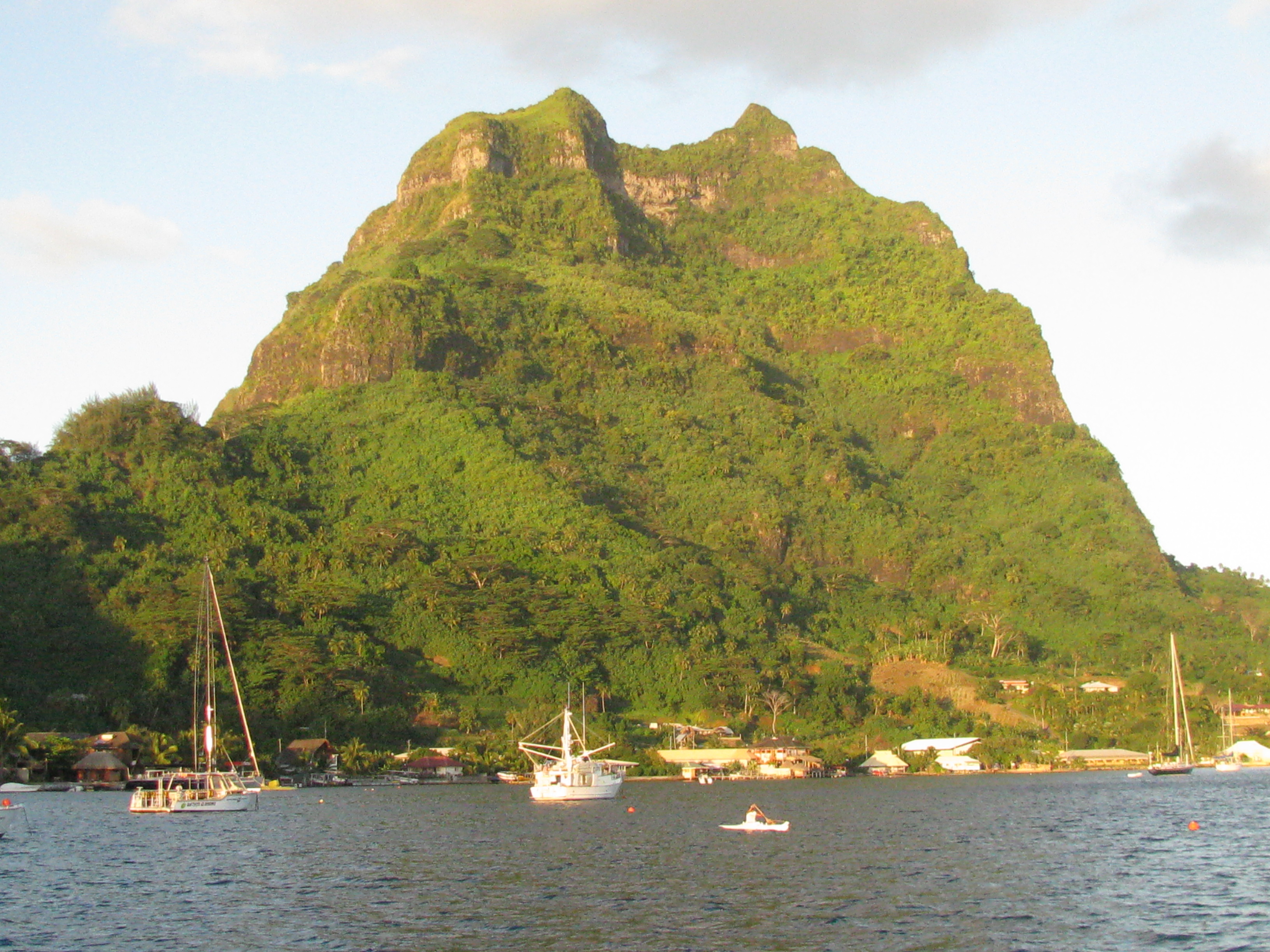 View from our boat in Bora Bora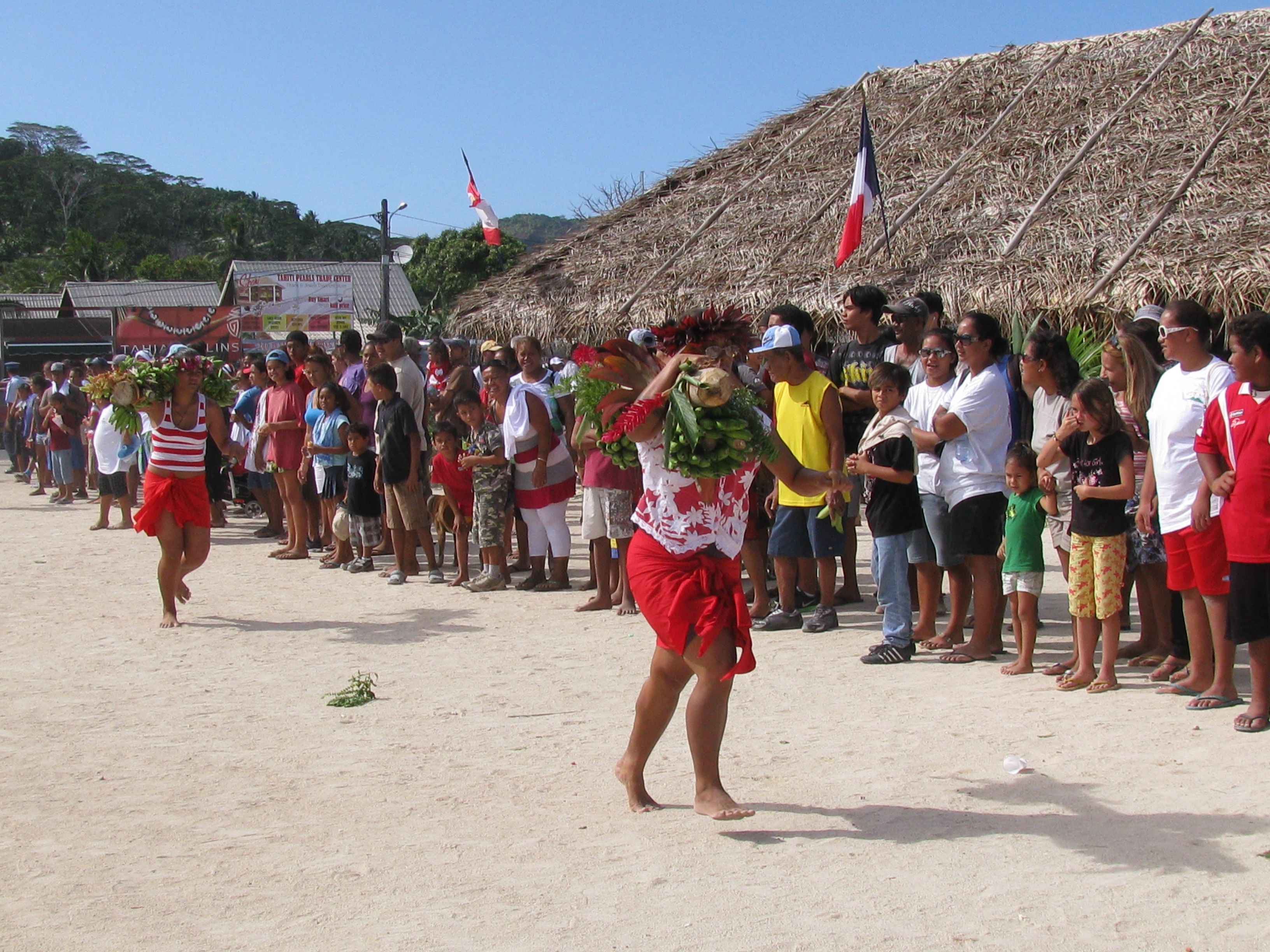 Sharon led the pack
Sharon's Log 7/12/2011
We thoroughly enjoyed our stay in the bungalow. We even invited our Dutch friends over for showers and dinner before we checked out. Although, we were all a bit sad to leave, it was good to get Georgia back in the water. The workmen were anxiously awaiting our return to put Georgia back in. Kim and I were still scrambling up the ladder as they began moving the boat down the ramp! This is an experience I hope to never repeat. As they still had some work to finish, we spent the weekend in the boatyard marina. The only good thing I can say is that we had AC and water. However, on Saturday, we went into town with some other cruisers to see a Polynesia song and dance exhibition. The entire town showed up for this free event. I wish that Andrea Owen had been with us. Today, we finally paid our bill and left the boat yard. Not all of the work was done, but we decided it was enough. We made a trip to the fuel dock, which was about half the length of Georgia J, and after a lengthy conversation in French, purchased our "tax free" diesel for $500. We then traveled a whopping 3.5 miles to the next island, Tahaa, and grabbed a mooring ball for the evening. Such a short distance, and we feel like we are in another world. The anchorage is quiet and beautiful. It is so good to be back on the water. Tomorrow we head to Bora Bora.
s/v Georgia J
Moored at 16 40.956 s, 151 29.145 w
Singers at festival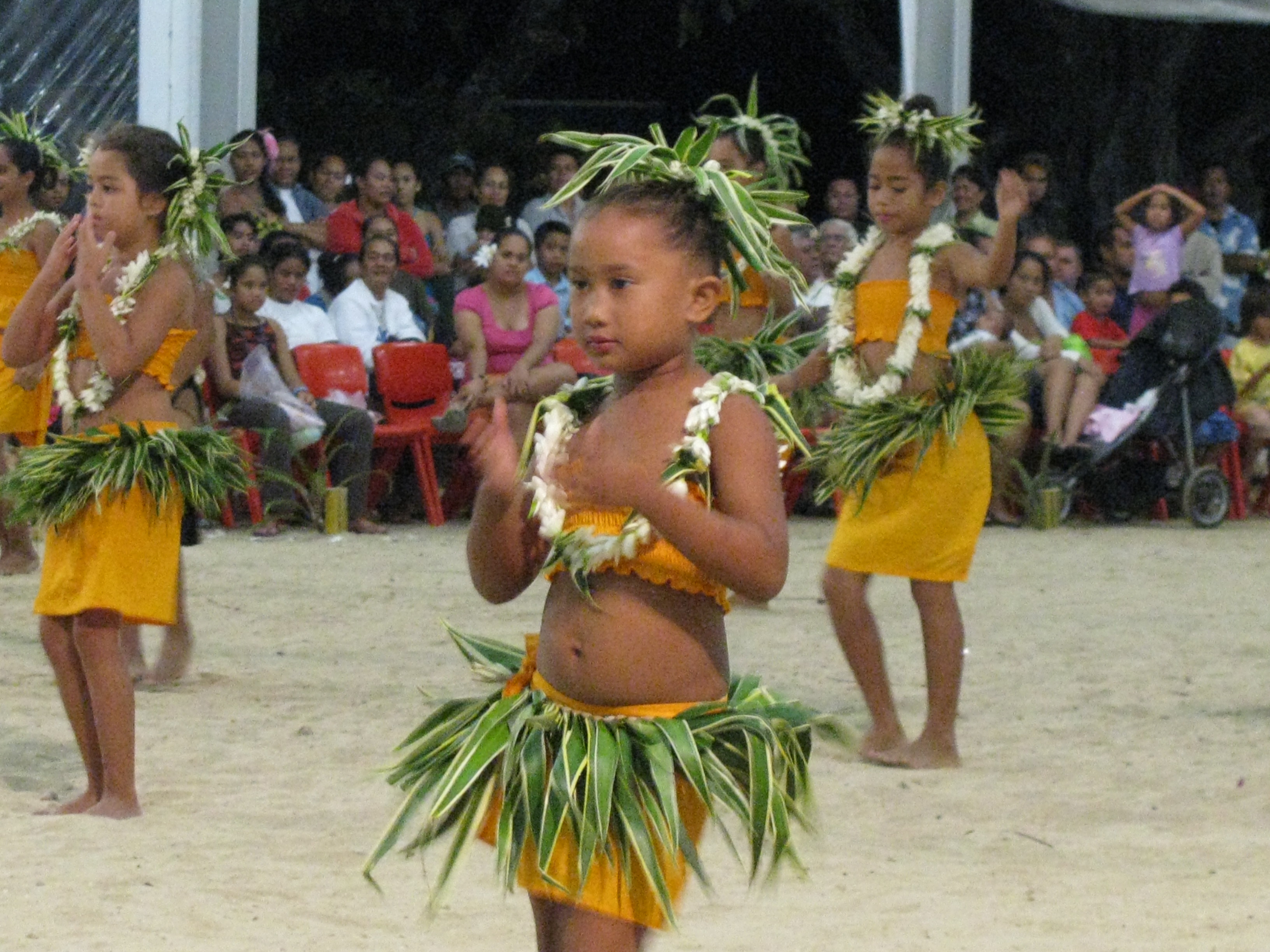 Kid's Hula Performance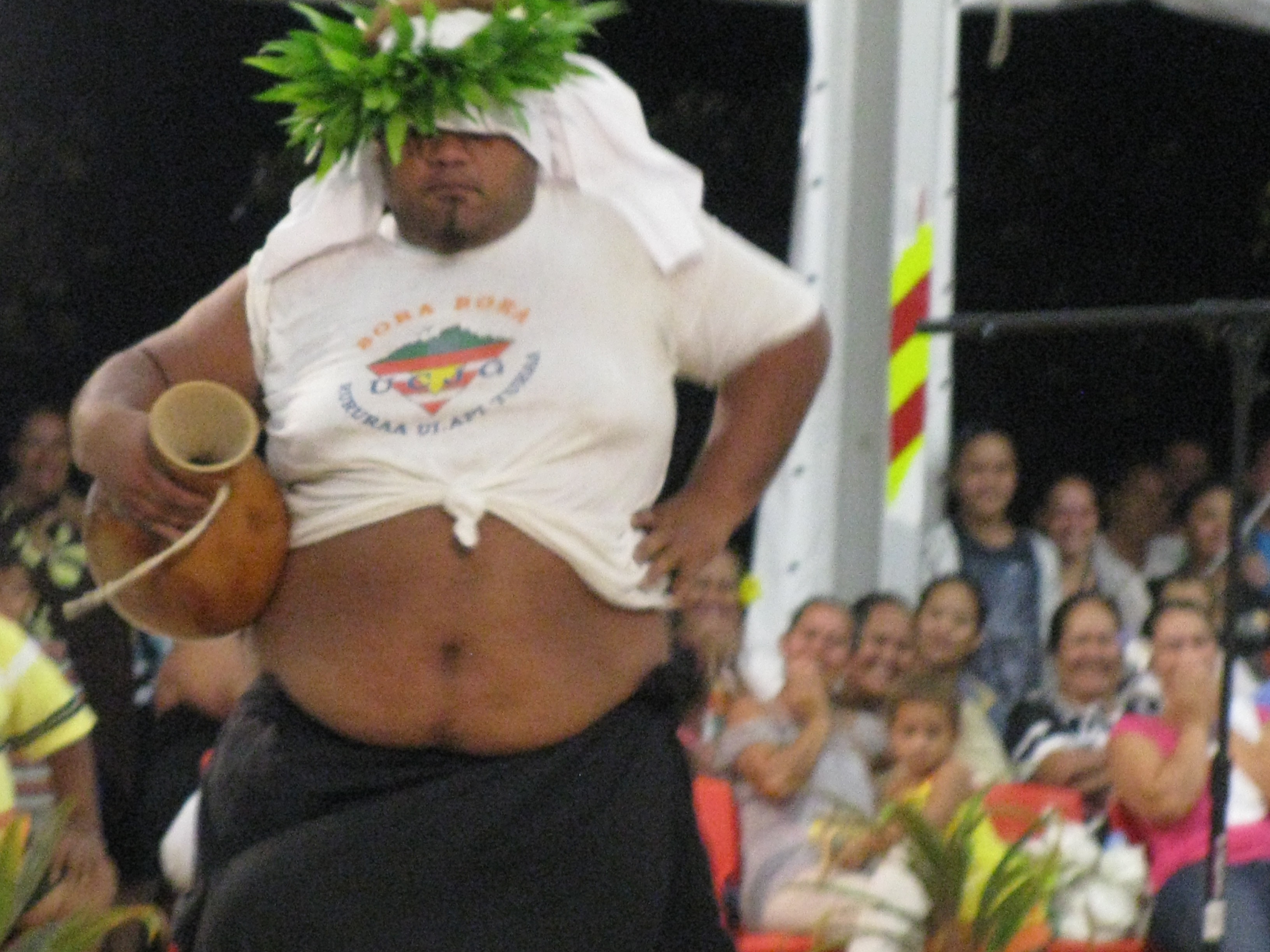 Fat guy hula- an X rated performance
Kim's log 7/2/11:

We are enjoying our stay at the bungalow in Raiatea. Georgia J was hauled out the old fashion way by putting her on a trailer and pulling her up a ramp with a tractor. The boat yard did a great job. Divers were in the water under us for over an hour directing us and carefully adjusting the supports before she was pulled out.

We took today off and toured the island in a rental car. The green, lush mountains against the sea are beautiful. Although rural and agricultural, this island seems more prosperous than the others we have visited. We had great lunch at a remote hotel on the beach. Unfortunately, we had to leave in a hurry. Sharon was confused by the French directions to the toilet. After using the facility, she realized that she had actually entered one of the guest's bungalows and used his bathroom.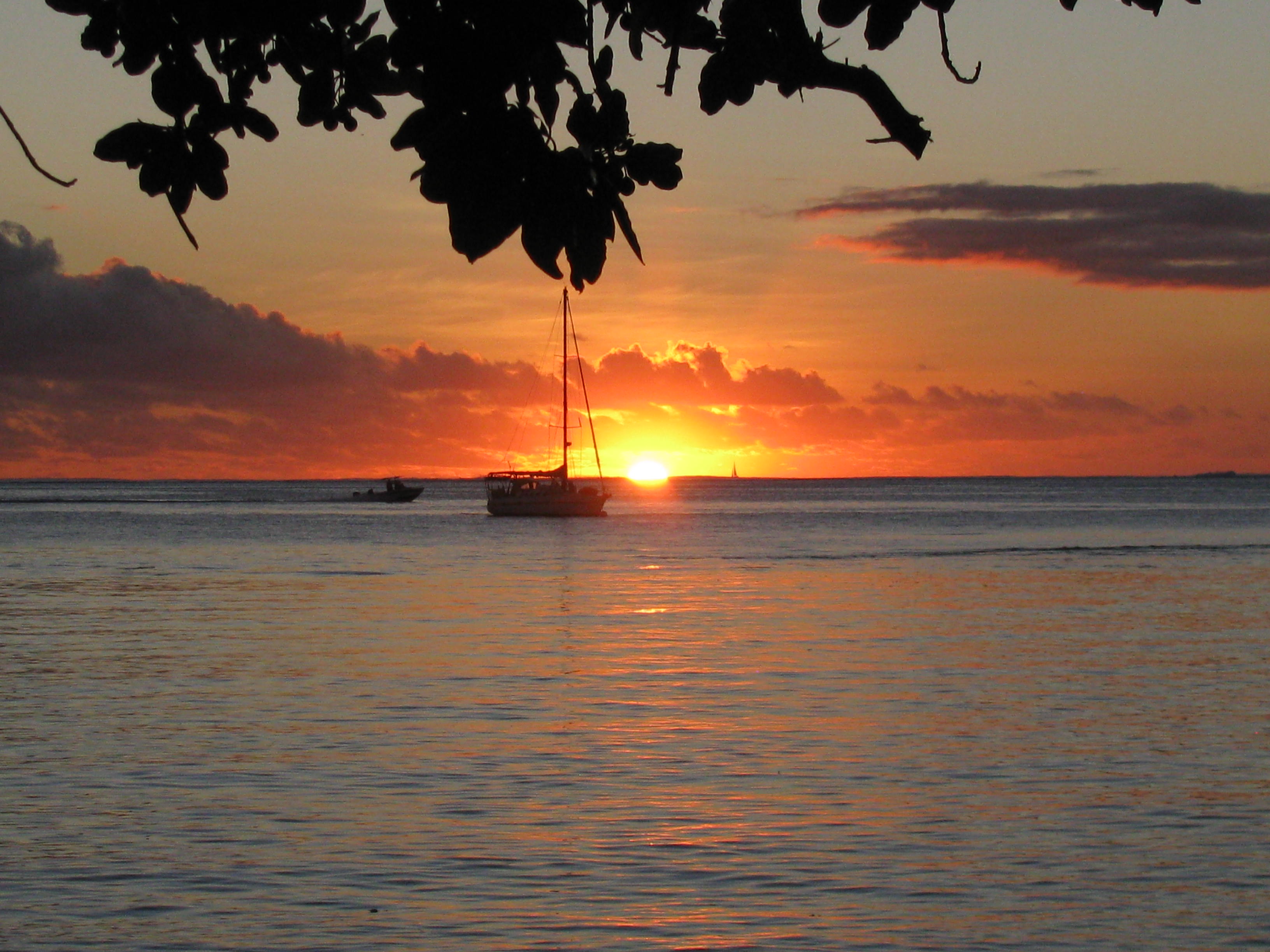 Sunset view from our porch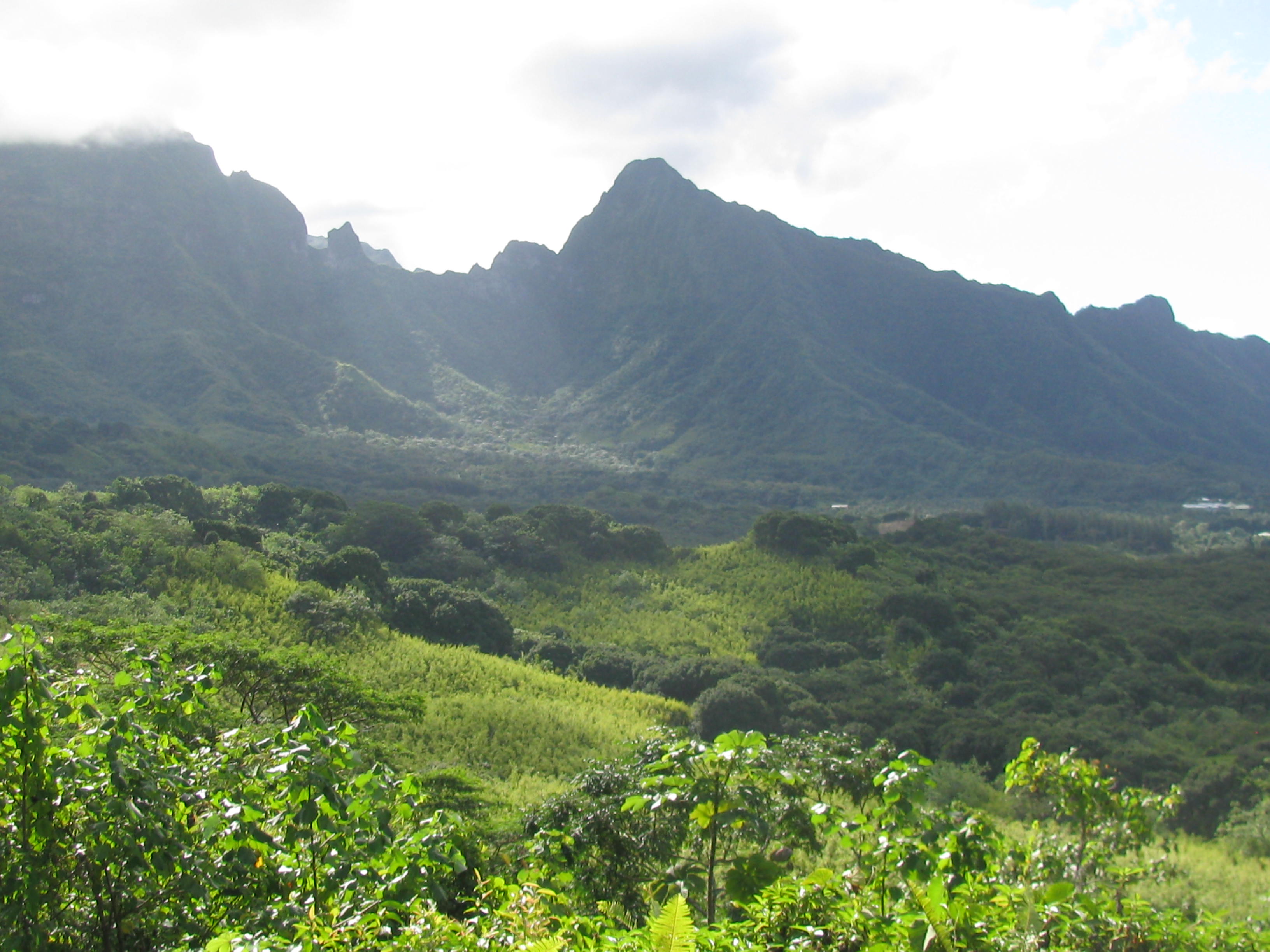 Drive around Raietea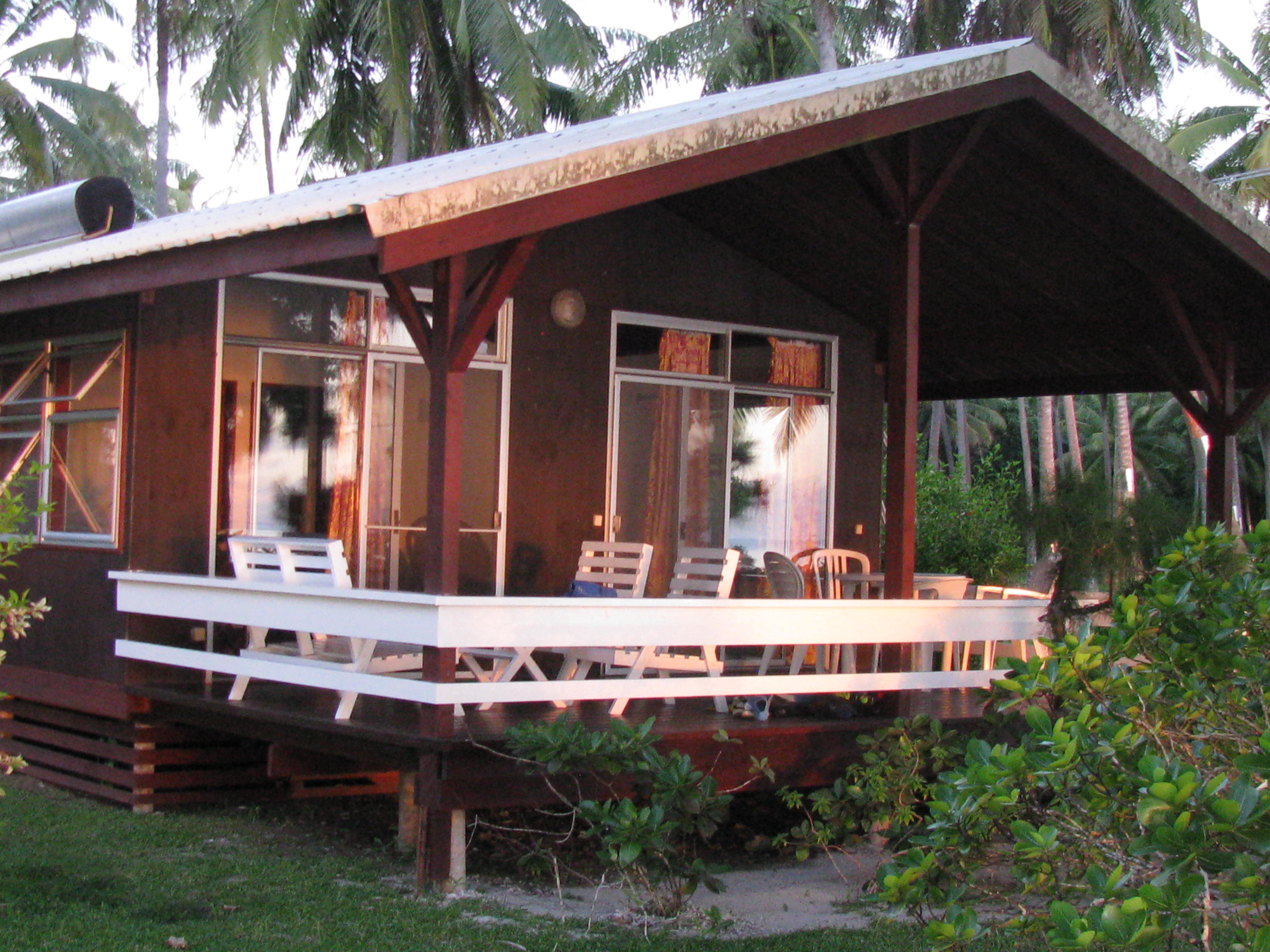 Our beach bungalow in Raieta
Kim's log 6/29/11:

We arrived in Raiatea yesterday and are currently on a mooring buoy waiting to have the boat hauled out tomorrow. There was not much wind on the passage, so we motor sailed for 21 hours. The only problem was that the reefing line broke at 4:00 am and we had straighten the mess out on the foredeck in the middle of the night.

We check in to the motel this afternoon. The motel bungalows look beautiful. They will let us keep our dingy on the beach in front of our unit, so we can go back and forth to the boat yard (a very short ride) to check on the progress.

s/v Georgia J, currently on mooring buoy at 16 44.059 S, 151 29.139 W
6/27/2011
Sharon's Log:

Our last few days in Papeete were busy, but a lot of fun. The rest of the Puddle Jump fleet made their way into town. The anchorage became quite cozy. For once we had good luck getting service people to work on the boat. That is the good news; the bad news is that we had to replace a pump on our new water maker. Our much overdue package arrived on our last day. The package contained not only the parts we need, but birthday and Father's Day cards, and drawings by Connor. I treated myself to a manicure and pedicure just before we left Papeete. Getting your nails leisurely done by a French woman is a far different experience than the tag team approach you get at home.

The Puddle Jump festivities began Friday afternoon at Papeete Town Hall. A very good informational session, followed by too many speakers was finally followed by the promised rum punch. Saturday morning was the rally (race) to Moorea. Most boats, including Georgia J, reverted to the "iron genoa", as we had very little wind. We believe that Moorea is the most beautiful island we have visited and the most crowded anchorage thus far. Saturday and Sunday was filled with puddle Jump events: games, Polynesian dancing, and parties.

We are now on our way from Moorea to Raiatea. The passage is roughly 100 miles. Only one overnight seems quite easy these days. We are planning to have the boat hauled out while we check into a bungalow for a few days. Yeah! I am keeping my fingers crossed for lots of hot water. The hotel does not normally take pets, but they have agreed to let us bring Plato.
We will most likely be in Raiatea for a couple of weeks.

s/v Georgia J
Position at 06 29 UTC on 6/28/22:
17 16.20 s, 150 24.52 w
Heading 280 m, speed 5.6 knots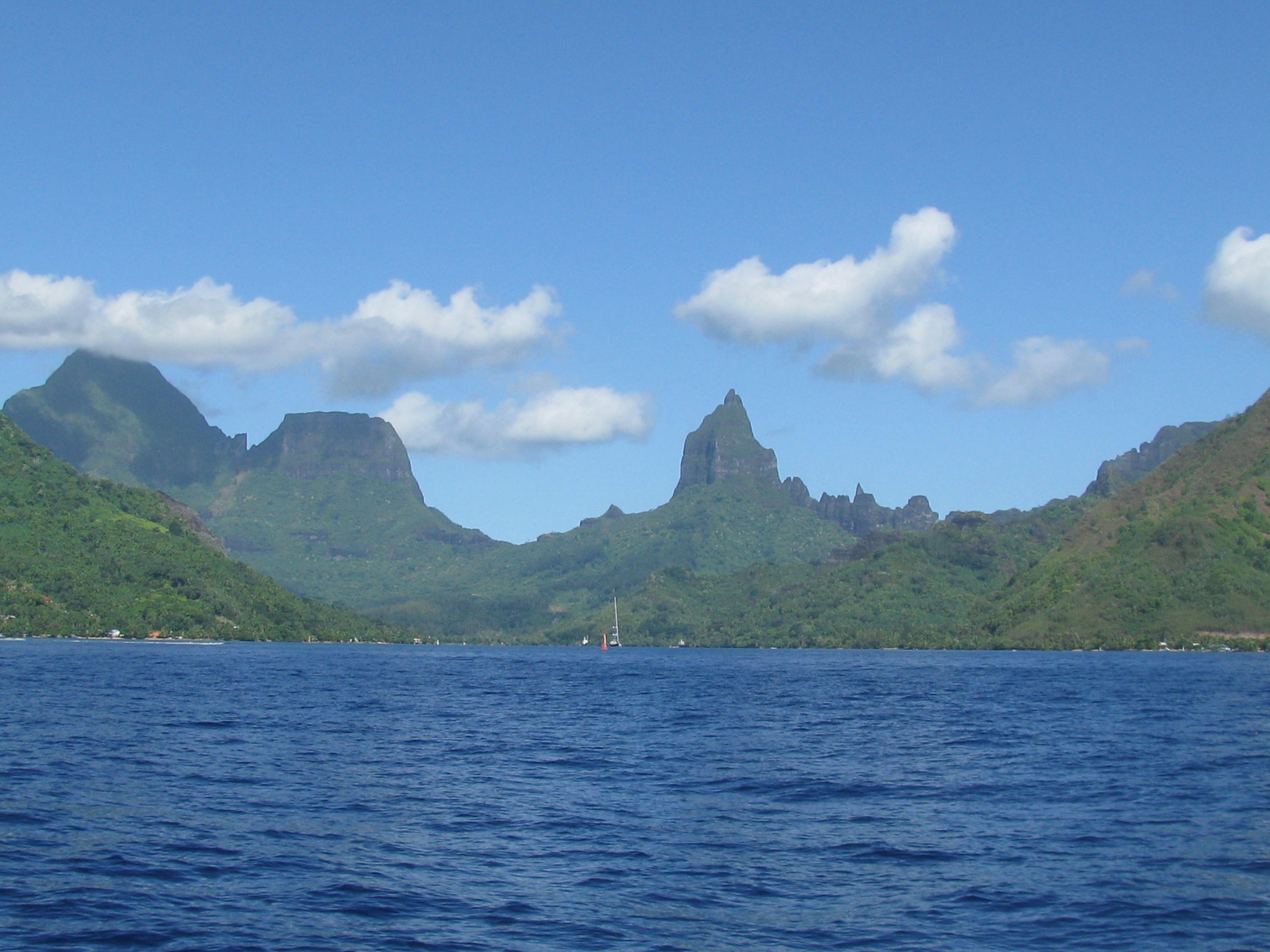 Entrance to Opunohu Bay, Moorea where we anchored
Kim's log- June 22:

Practically all the 140+ boats who did the Puddle Jump have gathered in Tahiti. We are anchored in 56 feet of water. Since there are so many boats close by, we can only put out about 110 feet of chain. So far, there is no wind or current and no one is bumping into each other. We are making good progress on repairs. Today we cleaned out a very dirty fuel tank, performed maintenance on the engine and repaired the watermaker. While Scuba diving, I noticed four big bolts loose on the propeller. I knew I heard something banging around during the crossing. We will be leaving Tahiti for Moorea (18 miles) on Saturday where there is a three day celebration for all the boats who did the Puddle Jump. I had a great internet connection tonight and posted some pictures below and in the Tuamotus section. Kim


06/20/2011
Sharon's Log

Our week in Papeete gave us a much needed return to civilization. Walking distance to three restaurants and two grocery stores seems like another world. Our new computer has not yet arrived, but we can get wifi for our Ipads at one of the restaurants.

We had two things to celebrate last week. Plato finally got official clearance from French Polynesia to go ashore. It only took two vet trips to the boat, three vaccinations (which he had already had) and another blood test. Considering that he had not been on land since early April, he seemed to take it in stride. He was however thrilled to be in the dingy again, always one of his favorites.

We also celebrated my birthday with some of our new friends and a very fine magnum of wine Kim's boss had given me as a going away present. We had some difficulty explaining the practice of "corkage" to the restaurant. We would have never pulled it off without the help of our Dutch friend who pleaded our case in French.

We will be here in Papeete this week. The Puddle Jump festivities begin here on Friday and the party moves to Moorea (about 12 miles away) on Saturday.

s/v Georgia J
Anchored at 17 34.762 S, 149 37.185 W
Birthday dinner for Sharon